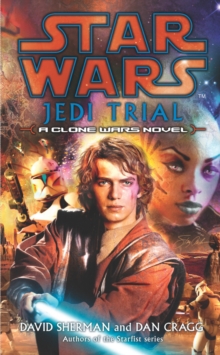 Star Wars: Jedi Trial
Paperback
Part of the Star Wars series
Description
Major original Star Wars adventure set against the backdrop of the Clone Wars and telling the tale of Anakin Skywalker's rise to full Jedi Knight status.
Somewhere between Star Wars: Attack of the Clones and Star Wars: Episode III, Anakin Skywalker graduates from Jedi Padawan (apprentice) to Jedi Knight status.
This book tells how that happens. A planet that is a crucial communications centre is taken by the Separatists, and the Republic decides to back a guerrilla fighting group called Freedom's Sons in taking it back.
A detachment of clone troopers led by Jedi Knight Nejaa Halcyon and Jedi Padawan Anakin Skywalker is sent out to help the Freedom's Sons.
Little does Anakin know that the volatile situation on this occupied planet will prove to be his own personal Jedi Trial, and that if he emerges victorious, he will have won the coveted titled of full Jedi Knight, student no longer but Jedi in his own right.
This is the Anakin who learns how great his powers can be and how huge is his real potential.
Information
Format: Paperback
Pages: 368 pages
Publisher: Cornerstone
Publication Date: 01/09/2005
ISBN: 9780099486879
Free Home Delivery
on all orders
Pick up orders
from local bookshops
Reviews
Showing 1 - 1 of 1 reviews.
Review by Anduril85
16/06/2015
This was not one of my favorites, the beginning was alright as Anakin starts to build a friendship with a recently disgraced Jedi Master, but even that never really grabbed my attention. The characters I found most interesting were Lieutenant Erk H'Arman and Odie Subu and their struggle to stay alive and together through a battle field. As it gets towards the middle, the book starts dripping with military technical jargon for instance a whole page is about how much water the republic troops need and how much they don't have and what their trying to do about it, another has a protocol droid listing what military aid functions he's capable of for a page and a half, it was not interesting and in my opinion it wasn't necessary at all.I do like however that the book shows that the wrong choices can be and are sometimes made in a battle even by someone who is supposed to know what their doing, and I also liked how Anakins future potential is shown in the final battle with him being an unstoppable one-man army.