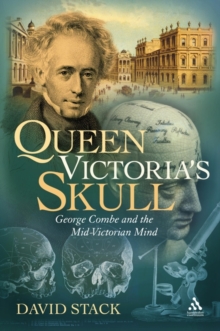 Queen Victoria's Skull : George Combe and the Mid-Victorian Mind
Hardback
Description
This is a hugely entertaining study that goes beyond biography to vividly portray Victorian life in a wider framework."Queen Victoria's Skull" explores the life and thinking of the Edinburgh phrenologist George Combe.
Phrenology is a theory which claims to be able to detect personality traits, character and predisposition to criminality on the basis of the shape of the skull.
Now dismissed as risible, it was treated with reverence by many Victorians.George Combe was the author of "The Constitution of Man", an ethical treatise that sold over 100,000 copies in Britain and 200,000 copies in America by 1900.
The quirkiness of his life and work, and the fact that he befriended and influenced many public figures - from Prince Albert to George Eliot - make for an engaging story. "Queen Victoria's Skull", however, does more than tell the tale of one idiosyncratic individual.
By tracing the development of Combe's intellectual interests it provides a prism through which to view Victorian culture, science and politics, covering themes of class, religion, sex, crime, art and the theatre. David Stack has written an entertaining and erudite study of an important, and now neglected, Victorian figure.
Information
Format: Hardback
Pages: 320 pages, 10 bw illustrations
Publisher: Bloomsbury Publishing PLC
Publication Date: 08/05/2008
Category: British & Irish history
ISBN: 9781847252333
Free Home Delivery
on all orders
Pick up orders
from local bookshops