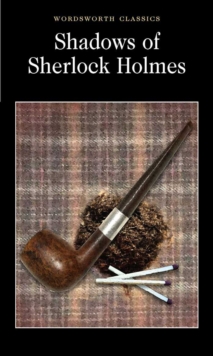 Shadows of Sherlock Holmes
Paperback
Description
Selected and Introduced by David Stuart Davies. The Shadows of Sherlock Holmes is a fascinating collection of stories featuring detectives, criminal agents and debonair crooks from the golden age of crime fiction: a time when Sherlock Holmes was esconsced in his rooms at 221B Baker Street and London was permanently wreathed in a sinister fog.
These gripping tales of mystery, suspense and clever puzzles are wonderfully entertaining and in them you will meet The Crime Doctor, Professor Augustus S.F.X.Van Dusen - The Thinking Machine, Max Carrados - the incredible blind detective, the repulsive but brilliant Skin o' My Teeth, and the natty, ingenious French sleuth Eugene Valmont.
On the other side of the law, there are gentleman crooks Raffles and Simon Carn - the Prince of Swindlers.
The stories include: ''The Purloined Letter' by Edgar Allan Poe, 'The Stolen Cigar Case' by Bret Harte, 'The Swedish Match' by Anton Chekhov, 'Nine Points of the Law' by E.W.
Hornung, 'The Ghost at Massingham Mansions' by Ernest Bramah and 'The Great Pearl Mystery' by Baroness Orczy.
Information
Format: Paperback
Pages: 384 pages
Publisher: Wordsworth Editions Ltd
Publication Date: 11/06/1997
Category: Classic crime
ISBN: 9781853267444
Free Home Delivery
on all orders
Pick up orders
from local bookshops
Reviews
Showing 1 - 2 of 2 reviews.
Review by findantonia
16/06/2015
Found all sorts of old favourites from my childhood holiday reading in here. A pleasure. My ratings policy means I couldn't have given this higher than a three, but that's because its on the mean side to leave room at the top for the gems that leave me quivering. This is a solid set of well-fashioned stories.
Review by patrickgarson
16/06/2015
A really delightful and well-edited anthology capturing *other* Victorian detectives (and more than a few master criminals). This collection is a great jumping-off point for further investigations into Victorian detective fiction. There are very few weak stories and the idiosyncratic nature of each make it a kind of antiquarian, literary yum cha.Fans of Holmes and Conan-Doyle in particular should be aware that none of these writers are especially trying to emulate that scion; both prose and structure are different though not necessarily poorer for it. There are also (it is Victorian popular fiction, after all), more than a few shades of the supernatural - something I quite liked though hard-core Baker Street Irregulars may not like it.On the whole though, this is one of the better Victorian anthologies floating around out there, and quite likely the best Wordsworth anthology. Do yourself a favour and pick up a bargain.
Also in the Wordsworth Classics series | View all