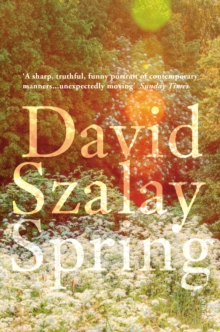 Description
James and Katherine meet at a wedding in London in 2006, towards the end of the money-for-nothing years.
James is a man with a varied past now living alone in a flat in Bloomsbury; Katherine is separated from her husband and working in an interim job in a luxury hotel.
They exchange phone numbers at the wedding, but from then on not much goes according to the script...
Information
Format: Paperback
Pages: 272 pages
Publisher: Vintage Publishing
Publication Date: 01/03/2012
ISBN: 9780099552772
Other Formats
Hardback from £12.35
EPUB from £4.99
Free Home Delivery
on all orders
Pick up orders
from local bookshops
Reviews
Showing 1 - 1 of 1 reviews.
Review by GarySeverance
16/06/2015
Canadian born David Szalay's third novel is an interesting character study of a thoughtful man in London who has had great financial success in the past, but who is now quite passive in his recovery from past failures. In fact, he has some backup money that allows him to live a middle class life but without enthusiasm. He develops a horse race tip service that evolves into his purchase of a steeple chase horse in partnership with an old untrustworthy friend. Both the tip service and the racing of his horse are deceptive, his source of tips an eccentric man with no social skills and his horse a second rate nag that is groomed by a disreputable trainer for a surprise win at very favorable odds after a contrived history of mediocre performance.While unmotivated in his financial life, James is persistently motivated in his relationship with Katherine, a luxury hotel manager. Most of the narration of James is detailed descriptions of nuances of his interaction with Katherine, who is as passive in love as James is in business. Getting her to kiss him takes maneuvering on his part with many questions like, "Don't you want to kiss me?" Katherine usually answers with statements of uncertainty like, "I don't know." What's not to know, the reader wonders.Mr. Szalay writes about contemporary symbols in a realistic style, a realism of notions. These include: isolation and solitude, difficulty of interactions, truncated emotions, inflation of information, lack of commitment, and endurance. Szalay is unrelenting in his realism, very nicely crafted, showing the difficulty of people just getting through each day, age, and season. The payoff of their daily activity is minimal in terms of financial rewards and emotional brightness. But, the characters are periodically aware of glimmers of hope for the future.Spring is reminiscent of Patrick Hamilton's novels. Thought the characters are joylessly active and gloomily introspective, the reader is compelled to follow their movements and thoughts observing the inevitable disappointment of their relationships. The moods of the central players never swing to complete depression or total elation, but there is a nagging underlying hope of love that drives them through London's under expressed life. A common factor in the work of both Szalay and Hamilton is the strength of survival instinct, physical and mental, that reinforces the reader's own life efforts. The title, Spring, implies that another muted season has arrived in the city and that one must get through it as best as one can without too much thought of happiness.