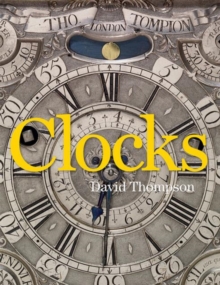 British Museum: Clocks
Hardback
Description
The British Museum has a superb collection of clocks and watches, covering the history of horology since the medieval period in greater depth and diversity than perhaps any other collection in the world.
This book features sixty-six of the rarest and finest clocks in the Museum's collection, ranging from early examples of domestic clock making to novelty clocks of the twentieth century.
Many of the most celebrated makers are represented here by some of their most important works, including isaac Habrecht's famous carillon clock, made in Imitation of the great astronomical clock which he constructed in Strasbourg Cathedral in the 1570s, and the year-going clock made by Thomas Tompion for King William III.
There are table clocks, astrolabic and astronomical clocks, monstrance clocks, ship's clocks, long case clocks, travelling clocks, organ clocks, observatory regulators, marine chronometers and even a cuckoo clock. The history of horology represented in this book covers a multitude of disciplines; from the history of science, the development of decorative art over the centuries, the social history of those who owned and used the clocks and the development of the art, science and industry of the clockmaker.
Accompanied by numerous colour photographs, the mechanical workings and decorative aspects of each clock are illustrated and described in detail, making this the perfect introduction to a perennially fascinating subject.
Information
Format: Hardback
Pages: 176 pages, 262 illustrations, 246 in colour
Publisher: British Museum Press
Publication Date: 31/12/2004
ISBN: 9780714128122
Free Home Delivery
on all orders
Pick up orders
from local bookshops