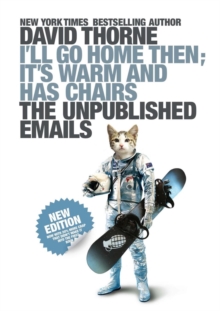 I'll Go Home Then, it's Warm and Has Chairs : The Unpublished Emails
Paperback
Information
Format: Paperback
Pages: 248 pages, 1, black & white illustrations
Publisher: David Thorne
Publication Date: 14/03/2012
Category: Humour
ISBN: 9780615615950
Free Home Delivery
on all orders
Pick up orders
from local bookshops
Reviews
Showing 1 - 3 of 3 reviews.
Review by MiaCulpa
16/06/2015
My reaction to this book may be clouded by the fact that the author and I hail from the same city but I thoughts parts of it touched the boundaries of comic genius and there were many laugh out loud moments to be found.Thorne has self-published this book and it sadly shows, with a number of typos appearing throughout. He also pads out the book somewhat (to which he admits). And if I were his nemesis Simon or his cousin Chris I would be considering suing for defamation. I'm not though, so I just laughed along and began looking forward to his next work.
Review by Jiraiya
16/06/2015
I'll go home then is not an apt title by any means for any kind of book. Trust David Thorne to come up with it. It's not as good as Thorne's first book, The Internet's a playground. He knows this book is inferior, a fact that I grasped within the first few pages. Although the quite long foreword was good, it showed a different kind of humor, more slapstick.The book's main jokes are double meaning. That's fine if the idea by itself is funny. Maybe this book is not for me but I did enjoy the Internet's a playground... what has changed? Well I think that David Thorne's simply happier and more mellow. He is relatively newly married and like the proverbial stand up comic, he is no longer bitter and his new-ish material lacks vim.Did I go into this book with impossible to fulfill expectations? No. But I started reading with a wide grin that faded and would not reappear. Some of the entries are from his website. I didn't laugh then and I didn't laugh much thereafter at the old and new material. The fact that I couldn't understand the myriad references proves nothing as the few that I understood didn't improve the jokes and I also didn't feel rewarded a la Captain America in the Avengers.
Review by Rosenstern
16/06/2015
Thorne mostly spends his time researching unicorns, sending emails and being a hilarious asshole. His emails threads, like Missing Missy, have become viral and he has some new material in this book. Not going to lie, a majority of the book is from his website, only a few new articles. I got the ebook rather than the paperback.