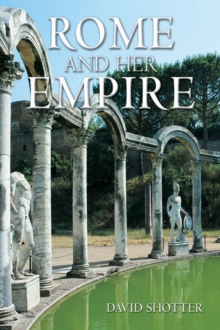 Rome and her Empire
Paperback / softback
Description
The name of Rome excites a picture of power and organisation, as do the widely-spread ruins that Roman civilization left behind.
Yet Rome grew out of a collection of small villages and major developments such as the growth of Empire were unplanned and completely unprepared for.Influenced by a small number of self-interested aristocrats who lacked a broader vision, Rome was often threatened by their intrigues.
Brought to the ground on a number of occasions, its leaders were able to snatch victory from the jaws of defeat.
How did Rome survive for nearly 1000 years, ruling over millions of people with few instances of internal rebellion?
David Shotter argues that the key was the way Rome managed to adapt to new circumstances, without at the same time discarding too many of its cherished traditions.
Information
Format: Paperback / softback
Pages: 464 pages
Publisher: Taylor & Francis Ltd
Publication Date: 09/01/2003
Category: European history
ISBN: 9780582328167
Also in the Recovering the Past series | View all