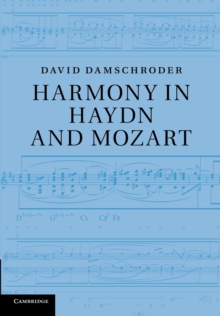 Harmony in Haydn and Mozart
Paperback / softback
Description
Integrating Schenkerian tools and an innovative approach to harmony, David Damschroder provides numerous penetrating analyses of works by Haydn and Mozart.
A series of introductory chapters assist readers in developing their analytical capacity.
Beginning with short excerpts from string quartets, the study proceeds by assessing the inner workings of twelve expositions from Haydn piano sonatas, six arias in G minor from Mozart operas, and three rondos in D major from piano concertos by Haydn and Mozart.
In the Masterworks section that follows, Damschroder presents detailed analyses of six movements from symphonies, string quartets and opera by Haydn and Mozart, and compares his outcomes with those of other analysts, including Kofi Agawu, Robert O.
Gjerdingen, James Hepokoski and Warren Darcy, Carl Schachter and James Webster.
The book represents an important contribution to modern analytical discourse on a treasured body of music and an assessment of recent accomplishments within that realm.
Information
Format: Paperback / softback
Pages: 312 pages, 150 Printed music items
Publisher: Cambridge University Press
Publication Date: 19/06/2014
Category: Classical music (c 1750 to c 1830)
ISBN: 9781107419841