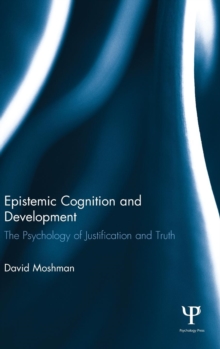 Epistemic Cognition and Development : The Psychology of Justification and Truth
Hardback
Description
Epistemic cognition, the philosophical core of metacognition, concerns people's knowledge about the justification and truth of beliefs.
Multiple literatures in psychology and education address aspects of epistemic cognition.
In the absence of a coherent conceptual framework, however, these literatures mostly fail to communicate with each other and often connect only loosely to genuine epistemology.
This complicates any effort to achieve a systematic theoretical understanding of epistemic cognition and its development.
Deanna Kuhn writes in her foreword, "Moshman is not the first to take on this challenge, but he fulfills it elegantly and, I think, the most comprehensively and astutely."After reviewing the basics of philosophical epistemology and cognitive psychology, Epistemic Cognition and Development provides a compelling account of developmental change across childhood and beyond in knowledge about knowledge, especially with regard to fundamental conceptions of objectivity, subjectivity, rationality, justification, and truth.
This is followed by detailed consideration of domain-specific epistemologies of science, logic, morality, social convention, history, and identity, including associated forms of reasoning.
The final section provides theoretical conclusions, educational and social applications, and suggestions for further research.
Free Home Delivery
on all orders
Pick up orders
from local bookshops