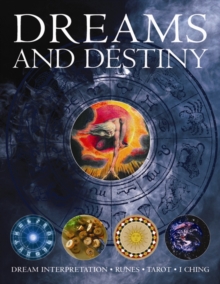 Dreams and Destiny
Paperback
Description
Dream interpretation: Runes; Tarot; I Ching. This is an examination of the world of dreams, and a guide to how we understand their significance.
You can learn to interpret your deepest thoughts, feelings and desires by analysing the visionary inner world that is the key to the future.
You can use the Tarot to foretell your own destiny by allowing the cards to tune into your worries, hopes and ambitions, and explore how to use runes and the I Ching.
This intriguing book studies the world of dreams, their meanings, the symbols they may contain, and how we can use them to access our subconscious.
Every culture in every historical period has interpreted the importance of dreams in different ways, but all agree that dreams have vital significance, and could even hold knowledge of the future.
Ancient methods of divining dreams, including runes, I Ching and Tarot, are explained and instructions are given on how to use them to interpret your own night-time revelations.
With intelligent and accessible text, and illustrated throughout with evocative images, this is an insightful examination of dreams and divination.
Information
Format: Paperback
Pages: 128 pages, over 230 photographs & illustrations
Publisher: Anness Publishing
Publication Date: 29/07/2016
Category: Fortune-telling & divination
ISBN: 9781780193106
Free Home Delivery
on all orders
Pick up orders
from local bookshops