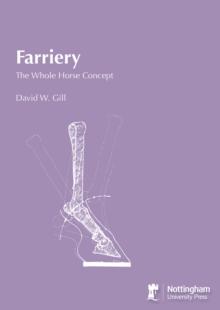 Farriery: The Whole Horse Concept
Hardback
Description
This book has been written to appeal to all relevant audiences, i.e. in the tack-room, the forge and the surgery. It is easy to read and understand and above all, the book is informative and thought provoking.
The gulf of understanding between owner, farrier and veterinary surgeon is bridged, by bringing together all interested parties to share a common pool of knowledge and understanding of natural biomechanics, technique and systems practiced.
A different perception of Farriery has long been overdue.
Foot balance is the main quintessential aspect of farriery and the questions of what is normal and what is undesirable have teased farriers and veterinarians for generations. A number of authors have set down their opinions but none have explored hoof balance in such detail. This book looks at anterioposterior and mediolateral hoof balance, not only defining what is normal and ideal but explaining how, through the forces imposed by the weight of the animal and the levers which make up the limb, the hoof can change shape.
Lameness and shoe loss are often considered a reflection of the competence of an individual farrier. This book will help provide the confidence and the evidence to help all parties involved in farriery to understand how form and function are inextricably linked.
This book is essential reading for those who are looking to expand their knowledge and for those who seek a more philosophical approach to this ancient craft.
It starts as a journey of inquiry, reviewing the past and examining the present, objectively introducing to the reader the wider perspective of farriery; not just about 'shoes on horses' but as a benign manipulative therapy, which forms an integral part of the whole horse concept.
Information
Format: Hardback
Pages: 162 pages, 217 colour illustrations
Publisher: 5m Publishing
Publication Date: 01/01/2007
ISBN: 9781904761556
Free Home Delivery
on all orders
Pick up orders
from local bookshops
Reviews
Showing 1 - 1 of 1 reviews.
Review by Katy-Freeman
16/06/2015
The book covers the whole subject of farriery, looking both at the past and the present.It's not a scary read but a book, which delivers a fresh commonsense approach to a subject that has intrigued for centuries. It's very well illustrated and far from boring.