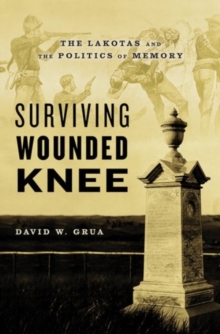 Surviving Wounded Knee : The Lakotas and the Politics of Memory
Hardback
Description
On December 29, 1890, the US Seventh Cavalry killed more than two hundred Lakota Ghost Dancers - including men, women, and children - at Wounded Knee Creek, South Dakota.
After the work of death ceased at Wounded Knee Creek, the work of memory commenced.
For the US Army and some whites, Wounded Knee represented the site where the struggle between civilization and savagery for North America came to an end.
For other whites, it was a stain on the national conscience,a leading example of America's dishonorable dealings with Native peoples.
For Lakota people it was the site of the "biggest murders," where the United States violated its treaty promises and slaughtered innocents. Historian David Grua argues that Wounded Knee serves as a window into larger debates over how the US's conquest of the indigenous peoples should be remembered.
Opposing efforts to memorialize the event ultimately proved a contest over language and assumptions rooted in the concept of "race war" or the struggle between "civilization" and "savagery." Was Wounded Knee a heroic "battle" - the final victory of the American empire in the trans-Mississippi West? Or was it a "massacre" that epitomizedthe nation's failure to deal honorably with Native peoples?
Even today, over a century later, the transmission of memory to survivors' descendants remains potent, and December 29, 2015, the 125th anniversary of Wounded Knee, will be marked by commemorations and lingering questions about the UnitedStates' willingness to address the liabilities of Indian conquest.
Information
Format: Hardback
Pages: 288 pages, 25 illustrations
Publisher: Oxford University Press Inc
Publication Date: 01/12/2016
Category: History of the Americas
ISBN: 9780190249038
Free Home Delivery
on all orders
Pick up orders
from local bookshops