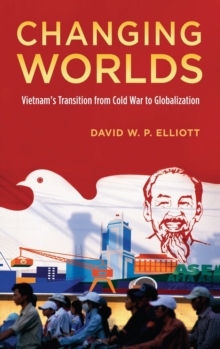 Changing Worlds : Vietnam's Transition from Cold War to Globalization
Hardback
Description
For the most of the twentieth century, the country of Vietnam has served as a symbol of the bipolar system of rival ideological blocs that characterized the Cold War.
As the conflict over communism waned in the 1980s, Vietnam faced the tough task of remaking itself as nation in the eyes of its people and of the world.
In Changing Worlds, David W.P. Elliot, a participant in the Aspen Institute's U.S.-Vietnam Dialogue who has spent the past forty years workingclosely with the people and government of Vietnam, chronicles the evolution of the Vietnamese state as we know it today.
With the collapse of communist regimes in Europe, Vietnam witnessed the dissolution of the cornerstone of its policies toward the outside world.
Fearing that a full commitment to deepintegration in a globalizing world would lead to the collapse of their own current political system, the Vietnamese political elite made slow, cautious steps to involvement with the larger international community.
By the year 2000, however, Vietnam had "taken the plunge" and opted for greater participation in the global economic system, leading to its membership in the World Trade Organization in 2006. Elliott illustrates that the politicians who took a limited approach to international involvement ultimately had condemned Vietnam to a permanent state of underdevelopment.
It is only at the turn of the 21st century when the Vietnamese state began to relax its policies toward the international community that the nation began to experience a period of revitalization.
Remarkably, these changes have happened without Vietnam losing its unique political identity as many had expected.
It remains anauthoritarian state, but offers far more breathing space to its citizens than in pre-reform era.
Far from leading the nation to be absorbed into a Western-inspired development model, globalization has led to a complex domestic diversification and localization that has reinforced Vietnam's distinctiveidentity rather than obliterating it.
The culmination of decades of research and cultural exchange, Changing Worlds documents the unique story of the birth of a nation amidst the challenges of the post-Cold War era.
Information
Format: Hardback
Pages: 432 pages, 12 b/w photographs
Publisher: Oxford University Press Inc
Publication Date: 27/09/2012
Category: Asian history
ISBN: 9780195383348
Free Home Delivery
on all orders
Pick up orders
from local bookshops