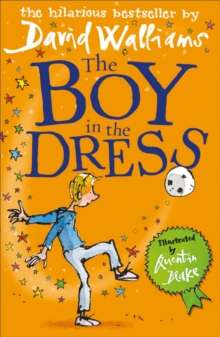 The Boy in the Dress
Hardback
Description
The sparkling debut children's novel from David Walliams, number one bestseller and fastest growing children's author in the country.Dennis was different.Why was he different, you ask?Well, a small clue might be in the title of this book...Charming, surprising and hilarious - The Boy in the Dress is everything you would expect from the co-creator of Little Britain.
David Walliams's beautiful first novel will touch the hearts (and funny bones) of children and adults alike.
Information
Format: Hardback
Pages: 240 pages, 20 b/w illus
Publisher: HarperCollins Publishers
Publication Date: 01/10/2008
Category: General
ISBN: 9780007279036
Other Formats
Paperback from £5.79
CD-Audio from £8.29
Mixed media product from £10.99
EPUB from £3.48
Free Home Delivery
on all orders
Pick up orders
from local bookshops
Reviews
Showing 1 - 4 of 4 reviews.
Review by emhromp
16/06/2015
This is a book I rarely come accross, unfortunately. It has the best kind of humour in it, it's very warm, very realistic, just very very good. I would recommend this book to any kid, or adult.
Review by Jellyn
16/06/2015
I found this in the YA section, but it reads more like a tween or even younger book to me. Perhaps slightly aided by the illustrations, which are reminiscent of Roald Dahl books.Turns out there's a reason they're reminiscent of those! It's the same illustrator.Dennis likes dresses and when a girl encourages him in this interest, he's soon dressing in one. He even passes quite well, until a mishap at school.The ending is heartwarming, if not very realistic.What gave me the most trouble with this book was the American 'translation'. It was odd and inconsistent. It used double quotes, but didn't put a period after Mr and Mrs. It changed the spelling of color, but not mucous. It changed football to soccer, but crisps and chips remained. It would've been better if they'd left well enough alone. It's pretty clear from the pictures what kind of football would've been meant!I didn't know anything about the author until I'd finished reading it. Turns out he's some sort of comedian celebrity known for dressing like a woman? And there's an odd 'a' in his name'.I don't know that transgender kids will see themselves in this book. Even transvestites would be pushing it. His reasons for wanting to wear a dress don't sort of click in with the reasons as I understand them for those two groups. But, it does at least say to boys (or tries to say) that it's okay to wear a dress. That some boys do do that. (There's a picture of the author as a kid, wearing a dress.)It's also good in that his friend is Sikh and a local shopowner who plays a pretty large part is Indian. It's not all white all the time. Saris even get mentioned without being explained. (Really a wonder they didn't throw in a footnote for those stupid American kids.)So, on the whole, not bad. You might want to read the original British version though if you can. I think it would be less annoying.
Review by martensgirl
16/06/2015
I loved this book. It is very funny, yet explores the issue of cross-dressing and tolerance without being preachy. I know some boys who have read this and I think it has changed their outlook. A boy who wears a dress is still good at football- who knew!
Review by SilverThistle
16/06/2015
I like David Walliams, I do. All his charridee work and I loved him as Greville in 'Capturing Mary', so I'll give a star for that. His boook.....not so much....but it was funny, so there's another star.<br/><br/>2 stars.<br/>Hmm, might have to give another one because it's maybe the book that will ease the torment of a lot of little adorable boys in dresses. "Hey! Did you read that Walliams book about the kid in the dress? It was hysterical! Wanna put on some dresses.....for a laugh?....C'mon, it'll be funny.."<br/><br/>So anyway, dear reader, we're here to discuss 'the boy in the dress'. Well, a star got knocked off for the times I was referred to as Dear Reader, for a kick-off. That really bugs. And another star hit the dust because, well, as funny as the book is, it's just a little bit sad too. It 'might' give the impression that all you need to do is be great at football, hook up with the coolest girl in the school and have a headteacher with great dress sense, and you're all set. It might not, but what do I know?!<br/><br/>It's probably opened a lot of doors for little boys up and down the country and that's a good thing, but I can't help but feel that if anyone else had written this it would never have been picked up. Quentin Blake as illustrator doesn't hurt either.