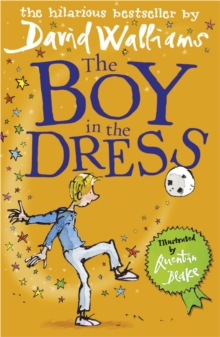 The Boy in the Dress
Paperback
Description
The sparkling debut children's novel from David Walliams, number one bestseller and fastest growing children's author in the country, with sparkling new cover look to tie in with later books.Dennis was different.Why was he different, you ask?Well, a small clue might be in the title of this book...Charming, surprising and hilarious - The Boy in the Dress is everything you would expect from the co-creator of Little Britain.
David Walliams's beautiful first novel will touch the hearts (and funny bones) of children and adults alike.
Information
Format: Paperback
Pages: 240 pages, 50 b/w illus
Publisher: HarperCollins Publishers
Publication Date: 01/06/2009
Category: Humorous
ISBN: 9780007279043
Other Formats
Hardback from £10.65
CD-Audio from £8.29
Mixed media product from £10.99
EPUB from £3.49
Paperback from £6.59
Free Home Delivery
on all orders
Pick up orders
from local bookshops
Reviews
Showing 1 - 4 of 4 reviews.
Review by CaroTheLibrarian
16/06/2015
PLUS - * It's a good theme for a children's book - being different, finding your own identity, standing out from the crowd, accepting people for just who they are.* There are some amusing asides from 'the author' as he directly addresses the reader, and a couple of clever uses of font style and size when there are whole pages of laughing or shouting.MINUS - * I wanted to like it, really I did but...* It just seemed somewhat cliched. I thought maybe it was trying to be deliberately tongue-in-cheek but in the end I thought not. * Some passages seemed to be a sequence of stock phrases from other stories:"It hadn't really been summer in their house again" after Mum left."You might be thinking... that the two brothers would be brought closer together. Sadly it only drove them apart."OVERALL - * Amusing (but not "hilariously funny" as it says on the cover). Not a bad book, but it just didn't do what I wanted it to.
Review by samantha0109
16/06/2015
David William's The Boy in the Dress is so amazing and funny and the ideas in the book are very unique.In the beginning the narrator started talking about this boy(forgot the name) and how he lived with his dad, and how his mother moved out after constant fights with her and his father. After that they started burning every picture that has their mom it, which was his dads idea. Even though their dad never wanted any of their sons talking about her. Even though their dad said no talking about her, the boy start talking about her but not in front of his dad but in his room. The secret that the boy is hiding is that he has this picture on a magazine of a look alike dress that her mom wore at a trip to the beach. One day he meets this girl and he started going to their house and they start hanging out and they started reading magazines and having fun. One day the girl made him a dress and he started wearing trying it on and she put makeup on him and they started having fun. This book was good at the beginning but it started getting boring when i was going up but i think other people will like this book. These characters are very regular but the boy is brave enough to try on a beautiful, gold color dress, high heels and even put make up on him also, he wore a wig to really make him look like a girl. Then the girl wanted to fool everyone by thinking he is a she. I can not make any connection of seeing any guy dressed up as a girl that's believable. It must have been so funny!
Review by bubble4tea
16/06/2015
David Walliams' The Boy In The Dress cracked me up with laughters throughout the whole book!  The story is about a boy named Dennis and his older brother John, whose parents are divorced. The boys remain with their father, who doesn't like to talk about his wife's death. Dennis finds comfort in his mother's left-behind clothes. Dennis buys a copy of Vogue magazine, but is caught by his horrified father; John calls him 'Denise'. At school that day Dennis is given detention, where he meets the glamorous Lisa James, who ultimately lends him a dress which he wears to school. Which makes Dennis very embarrassed and even gets expelled from school. But a miracle happens.....Dennis turns into a hero!
Review by TPauSilver
10/11/2015
The boy in the dress is the story of a boy who likes to wear girls clothing. He then redeems himself from this by performing masculine coded activities while in girls clothing and then vilifies another normally male-presenting person for wearing female clothing too. I had issues. Walliam's writing is funny and his characters and decent. It's an easy, quick read of a book so there could be worse things but in terms of gender politics which you'd really expect it to get right it's a complete mess. Now, I'd have preferred some introspection on the main character's part about if he is a boy of not when it's clear he wants to wear a dress, but there isn't and that's alright. You lose a bit of my good will but some guys do like wearing traditionally female clothes and the high point of the book is where the pretty girl talks the main character into letting go and trying on the dress by telling him she doesn't think there should be any rules. Because there shouldn't. So, yeah, so far so good. Dennis puts on a dress and goes out. His entire encounter with wearing a dress isn't framed as a boy wearing a dress, it's framed as a boy tricking people into thinking he's a girl. Lolololol only do I really need to point out the historic problems with representation of the trans community and the concept of tricking. Of the idea that they're somehow trying to fool people. Then we get knotted up in the issue of passing too becasue what makes it okay for Dennis to wear the dress (and not the two adult male characters who later try it) is that Dennis looks like a girl and they don't, so Dennis's wearing a dress is acceptable and theirs is comedic. Then you have the fact that Dennis redeems himself for wearing the dress by playing football really well. A male coded activity. Admittedly he does it while still in a dress but we have this reassertion of masculine norms which instead of making it allowable for Dennis to do female coded things, claims the dress and links it with male coded activity. In short, it doesn't become okay for Dennis to do 'girl things', it takes the dress and links it to a 'boy thing'. Then we have the ending, where it turns out that the teacher who's been persecuting Dennis is doing it becasue their gender-presentation is non-cis. Instead of Dennis being understanding about this and it forging a bond of understanding between them that gets him to back of, Dennis uses it as blackmail material. Because a man in a dress deserves to be mocked and to be the target of ridicule because that's ridiculous....oh, wait. You mean that's NOT the moral of this book. So, yeah. It's kind of funny and easy to read but the gender politics in this book are a complete mess. Would not read again.