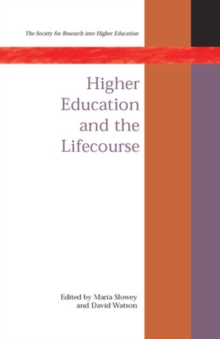 Higher Education And The Lifecourse
Paperback / softback
Description
"key arguments for policy and practice for lifelong learning in higher education." Higher Education DigestAt the beginning of the 21st century it is increasingly clear to professionals at all levels of formal and informal education that we need to refresh the concept of lifelong learning.
Most importantly, the concept needs to be expanded so that it is lifelong and lifewide, concerned not just with serial requirements of those already engaged, but also with the creation of opportunities for those who have not found the existing structures and processes accessible or useful.
This book discusses resulting arguments about policy and practice in three parts: Part One focuses on the lifelong dimension, addressing in particular the changing nature of the student population.
Part Two investigates the lifewide connections between higher education and other areas of social and economic life.
Part Three offers a structural analysis, based on research on changing needs of learners, and setting out some key implications for higher education.
Higher Education and the Lifecourse provides a timely analysis of the higher education sector and will be an important resource for graduate students, researchers, policy makers and senior managers within the fields of higher and post-compulsory education.
Free Home Delivery
on all orders
Pick up orders
from local bookshops