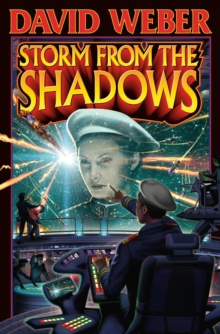 Storm from the Shadows
Book
Description
Rear Admiral Michelle Henke was commanding one of the ships in a force led by Honor Harrington in an all-out space battle.
The odds were against the Star Kingdom forces, and they had to run.
But Michelle's ship was crippled, and had to be destroyed to prevent superior Manticoran technology from falling into Havenite hands, and she and her surviving crew were taken prisoner.
Much to her surprise, she was repatriated to Manticore, carrying a request for a summit conference between the leaders of the two sides which might end the war.
But a condition of her return was that she gave her parole not to fight against the forces of the Republic of Haven until she had been officially exchanged for a Havenite prisoner of war, so she was given a command far away from the war's battle lines.
What she didn't realize was that she would find herself on a collision course, not with a hostile government, but with the interstellar syndicate of criminals known as Manpower. And Manpower had its own plans for eliminating Manticore as a possible threat to its lucrative slave trade - deadly plans which remain hidden in the shadows.
Information
Format: Book
Pages: 928 pages
Publisher: Baen Books
Publication Date: 20/04/2010
Category: Science fiction
ISBN: 9781439133545
Free Home Delivery
on all orders
Pick up orders
from local bookshops
Reviews
Showing 1 - 2 of 2 reviews.
Review by jjmcgaffey
16/06/2015
There are a _lot_ of assumptions made in this book, by all sides. 'In that case, they would have to...' over and over - by Sollies, Manties, and Mesa. As readers, we know more about it - by the end of the book I was getting seriously annoyed at the Manties for their assumptions on timing. Also intentions - though the destroyer didn't know about the puppetwork on New Tuscany. And like that. The story is neither started nor finished in this book - it starts with a major overlap with Shadow of Saganami and whatever book has Michelle's being left behind, and it ends with two proposals and two planned ship movements, which will be very exciting in the next book (or two, or...). There's also one major loose end that's mentioned but not directly seen - Zilwicki and Cachat haven't surfaced yet. Still, this book has its own share of excitement - poor Chatterjee, Byng, the setup with the spiders - and how do they think they're going to establish themselves with an Epsilon Eridani violation in their immediate past? Mesa's weird. And that's a setup that I'd forgotten to mention - another gonna-happen for the next book. The Honorverse is getting as intertwined as 163x - but unlike that series, it had a straightline of events long enough to draw me in. I do need to reread at least the previous couple books - AAC, SoS and the Torch one - before the next book comes out (and I have a good memory for the written word, I don't usually need to do that). Still, for this richness of event it's worth it.
Review by markg80
16/06/2015
Read it if you've read the other Honor Harrington books, the main story arc makes more sense that way. If you haven't read the other books, don't read it. Way too many briefs about meetings, meetings, more meetings and, yes, even more meetings! Fortunately you can skips those meetings. I'll summarize; we (Manties & allies) are good and smart. Have pity on us because other people keep attacking us. The Havenites are like Manties now; same moral, just less skilled. Oh yes, they we're evil, but now they aren't. Sollies are stupid but big. They keep underestimating us, but since they're stupid, no surprise there. Mesans are evil! Shoot on sight, ask questions later.