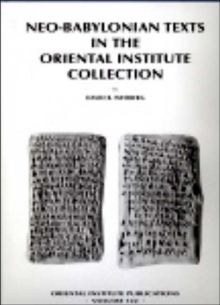 Neo-Babylonian Texts in the Oriental Institute Collection
Hardback
Description
The 173 texts contained in this volume were acquired by the Oriental Institute Tablet Collection over a long period of years from various sources.
The texts are dated from 699 to 423 BC, during the Neo-Babylonian period.
The more noteworthy subject matter of the texts includes an adoption document, sale of houses and a field (from the Nur-Sin archive), a "datio in solutum," a court protocol concerning a loan of silver with interest specified, a loan of silver with interest specified, proceedings in the assembly concerning personal status, a Mar Banutu text from the town of Hubat, a court record concerning the status of a freed person, a contract with fowlers to supply birds to Eanna, an inventory of the finery of the Lady-of-Uruk for craftsmen, a four-column list of precious objects, a two-column list of words, a tablet whose obverse records part of a contract and whose reverse is from Sb B, a fragment of an Akkadian religious text or medical or astrological commentary, and a fragment of a literary text.
The book contains transliterations, translations, text notes, commentary, indices, and a mixture of hand-drawn copies and photographs of the tablets.
Information
Format: Hardback
Pages: 282 pages
Publisher: Oriental Institute of the University of Chicago
Publication Date: 18/12/2003
Category: Archaeology by period / region
ISBN: 9781885923288
Also in the Oriental Institute Publications series | View all