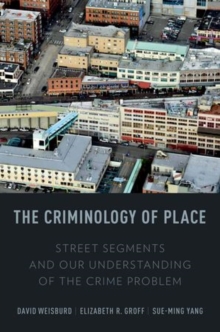 The Criminology of Place : Street Segments and Our Understanding of the Crime Problem
Paperback / softback
Description
The study of crime has focused primarily on why particular people commit crime or why specific communities have higher crime levels than others. In The Criminology of Place, David Weisburd, Elizabeth Groff, and Sue-Ming Yang present a new and different way of looking at the crime problem by examining why specific streets in a city have specific crime trends over time.
Based on a 16-year longitudinal study of crime in Seattle, Washington, the book focusesour attention on small units of geographic analysis-micro communities, defined as street segments.
Half of all Seattle crime each year occurs on just 5-6 percent of the city's street segments, yet these crime hot spots are not concentrated in a single neighborhood and street by street variability is tremendous. Weisburd, Groff, and Yang set out to explain why. The Criminology of Place shows how much essential information about crime is inevitably lost when we focus on larger units like neighborhoods or communities.
Reorienting the study of crime by focusing on small units of geography, the authors identify a large group of possible crime risk and protective factors for street segments and an array of interventions that could be implemented to address them. The Criminology of Place is a groundbreaking book that radically alterstraditional thinking about the crime problem and what we should do about it. "This is a very important book for policy-makers, practitioners and academics.
The authors carefully and systematically build their case that effective crime prevention efforts must be focused first on a small number of high crime problem places.
The detail of their arguments transforms hotspot policing and prevention in the same way keyhole surgery has transformed medical care. Their case is persuasive and, above all, evidence based" - Peter Neyroud CBE QPM, University of Cambridge and Former Chief Constable and Chief Executive of the National Policing Improvement Agency
Information
Format: Paperback / softback
Pages: 288 pages, 24 b/w line, 4 b/w halftone, 28 color halftone
Publisher: Oxford University Press Inc
Publication Date: 13/10/2012
Category: Causes & prevention of crime
ISBN: 9780199928637
Other Formats
PDF from £18.89
Hardback from £100.00
Free Home Delivery
on all orders
Pick up orders
from local bookshops