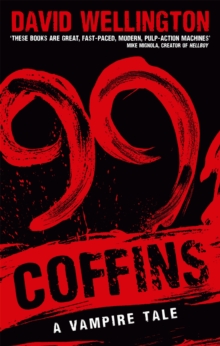 99 Coffins : Number 2 in series
Paperback
Description
Laura Caxton vowed never to face them again. The horror of what the vampires did is too close, the wounds too fresh.
But when Jameson Arkeley comes to her with an unfathomable discovery, her resolve crumbles.
Arkeley leads Caxton to a recently excavated tomb in Gettysburg.
While the town, with its legendary role in the Civil War's worst battle, is no stranger to cemeteries, this one is remarkably, eerily different.
In it lie one hundred coffins - ninety-nine of them occupied by vampires, who, luckily, are missing their hearts.
But one of the coffins is empty and smashed to pieces.Who is the missing vampire? And does he have access to the ninety-nine hearts that, if placed back in the bodies of their owners, could reanimate an entire bloodthirsty army.
The answers lie in Civil War documents that contain sinister secrets about the newly found coffins - secrets that Laura Caxton is about to uncover as she is thrown into the deadly, gruesome mission of saving an entire town from a mass invasion of the undead . . .
Information
Format: Paperback
Pages: 400 pages
Publisher: Little, Brown Book Group
Publication Date: 01/06/2011
Category: Horror & ghost stories
ISBN: 9780749954314
Free Home Delivery
on all orders
Pick up orders
from local bookshops
Reviews
Showing 1 - 1 of 1 reviews.
Review by AdonisGuilfoyle
16/06/2015
The second novel in David Wellington's vampire series is an exciting improvement on the first. Trooper Laura Caxton is still fairly useless, but at least she is facing her fears - and this time, she is in charge. One year after the events in <i>13 Bullets</i>, Laura and her miserable mentor Arkeley have been immortalised on film as vampire hunters, but all Caxton wants to do is forget and move on. When Arkeley asks for her help with another case, she tries to refuse him, but curiosity wins over her better judgement and the two end up in Gettysburg. An archaeological dig has turned up 99 vampire coffins on the battlefield, and Laura must make sure that the old bones are well and truly dead - but the 100th coffin is empty.The combination of history and vampires in this story had me hooked - I didn't know anything about the Battle of Gettysburg, or the American Civil War, but Caxton's investigation into an undead army of Union soldiers really brought the details of that era to life (pardon the pun). And the Mutter Museum in Philadelphia, where Arkeley tries to force a confrontation between ancient vampire hag Justinia Malvern and one of her creations was absolutely fascinating, and very atmospheric. The head vampire was actually very charming and amusing, too, which made a change from the usual feral monsters of Wellington's mythology.The terror - and feeling of claustrophobia - generated by Caxton's battles with vicious and virtually unstoppable vampires is what sets this series apart from the many other examples of vampire fiction I have read recently - that, and the 'gay lady supercop' heroine, of course. I actually shared the Trooper's sense of despair and guilt, when she and the others were facing wave and after wave of supernatural killers in Gettysburg. Truly the tense, tortuous stuff of nightmares.
Also in the Laura Caxton Vampire series | View all