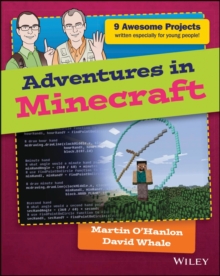 Adventures in Minecraft
Paperback
Description
Here's your ticket to a world of adventures with Minecraft and programming.
Learn how to extend Minecraft and create a new gaming experience, by exploring the magical world of Minecraft programming.
Adventures in Minecraft, like other books in the highly successful Adventures series, is written especially for 11- to 15-year-olds.
With this book you will learn new programming skills while having fun with Minecraft!Minecraft programming experts David Whale and Martin O'Hanlon walk you step-by-step through everything you need to know to: * Get started writing Minecraft programs in Python on your PC, Mac, or Raspberry Pi * Build houses and other structures in the blink of an eye, and make a 3D duplicating machine * Write interactive games like a field that charges you rent, and a treasure hunt using magic vanishing bridges * Build custom game control panels using simple electronic circuits * Easily build huge 2D and 3D structures such as spheres and pyramids * Build intelligent objects like a massive Minecraft clock, and program an alien invasion * Plan and write a complete interactive arena game Using the programming skills you learn from this book, writing Minecraft programs offers endless possibilities to create anything you can imagine.
To make your journey that much easier, the Adventures in Minecraft companion website supplies you with a video for each adventure in the book, downloadable code files, helpful programming reference tables, a bonus adventure, and badges to collect for your Minecraft accomplishments. By day, David Whale and Martin O'Hanlon are software engineers who design computer products.
By night, they play Minecraft and develop exciting new programs that interact with the Minecraft world.
They both work regularly with young people in schools, computing clubs and at community events, giving talks about Minecraft programming and running programming workshops.
Information
Format: Paperback
Pages: 320 pages
Publisher: John Wiley & Sons Inc
Publication Date: 21/11/2014
Category: Computer games: strategy guides
ISBN: 9781118946916
Other Formats
EPUB from £11.69
Paperback from £15.15
PDF from £11.69
Free Home Delivery
on all orders
Pick up orders
from local bookshops
Reviews
Showing 1 - 1 of 1 reviews.
Review by krau0098
16/06/2015
I got a copy of this book to review through the Amazon Vine program. Overall this was a good book. My computer is running ubuntu 14, and since linux wasn't expressly covered in this book, I was a little worried it might not work out well. In the end I only had to do a few extra things, like install the tk-dev package for python which wasn't included by default with apt get (sudo apt-get install tk-dev), of course I had already made python, so I had to make it again, which was a little annoying. Other than the above, I was able to follow the instructions in the book, and it worked out (btw, idle should be in your path after the python install, so you don't double click on it in linux). The authors have a kit setup for download for the server (bukkit), which I would have liked the instructions for setup.After the initial install, it was pretty easy to follow the instructions. This book is setup for someone who has no programming knowledge. I do java development for a living, so most of the book was just basics that I really didn't need to read. I did think that for the most part the explanations were pretty good, but like most technical books, it was a little too wordy for my taste. I was running through this with my 8 yr old son (who is a diehard Minecraft fan) and he understood pretty quickly what was going on, though some explanations were needed. My son quickly wanted to get off track from what the book was doing, and though that is kind of fun, it made it so that once he had the basics he really wasn't interested in running through the other examples in the book. Right away he wanted to start doing other things. My eight year old also lost interest in the programming part pretty quickly and wanted to stop putting in the code himself and have me do it. He was interested in the results and the coding held his interest for 30 minutes or so. So I would recommend for kids that are a bit older, probably 10 years or older...of course it depends on the kid.The only other thing, is that one of the examples uses a raspberry pi board, to connect to minecrafter, we didn't do that since we didn't have one lying around, so we skipped that chapter. It looked interesting, but I didn't really see the point.Pros:Well written with good basic examplesSetup was pretty easyCons:A little long winded at partsNo instructions for setup of the server (this is in a README file, but it would be nice to at least have it in appendix of the book itself).