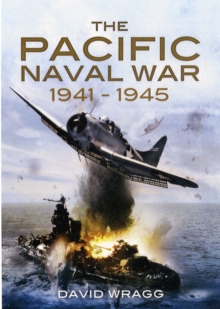 Pacific Naval War 1941-1945
Hardback
Description
The Pacific Naval War 1941-1945 is an account of the war between the Allies and the Japanese.
This was primarily a naval war as sea power allowed the Japanese to mount their attack on Pearl Harbour and then advance westwards and southwards, and it was sea power that enabled the Allies to strike back and even take the war to Japan itself.
The tide turned very quickly, with the overwhelming US victory at Midway in June 1942 ending any Japanese hope of domination, and eventually saw the greatest naval battle in history at Leyte Gulf as American forces retook the Philippines. The book begins by setting the scene in the Far East and the decisions that led Japan into war, and also by looking at the situation faced by the Royal Navy elsewhere, with its initial heavy losses of major ships, and especially aircraft carriers.
Yet, within a couple of years, the Royal Navy was able to send the strongest and most balanced fleet in its history to the Far East and played a major role in attacking Japanese oil production and in preventing reinforcements being flown from Japan to Iwo Jima and Okinawa. The conflict also saw the Royal Australian Navy develop from a small force designed to support the Royal Navy in the southern hemisphere into a viable naval force in its own right and ready to become a balanced fleet in the immediate post-war years.
The progress of the war is supported by eye-witness accounts from those involved in the fighting at sea.
Information
Format:Hardback
Pages:220 pages, 16pp B & W plates
Publisher:Pen & Sword Books Ltd
Publication Date:24/03/2011
Category:
ISBN:9781848842830