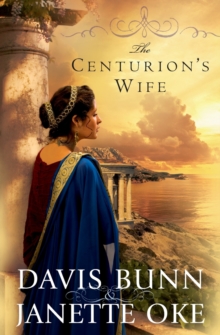 The Centurion's Wife
Paperback
Information
Format: Paperback
Pages: 400 pages
Publisher: Baker Publishing Group
Publication Date: 01/01/2009
Category: Religious & spiritual fiction
ISBN: 9780764205149
Free Home Delivery
on all orders
Pick up orders
from local bookshops
Reviews
Showing 1 - 5 of 13 reviews.
Previous | Next
Review by hobbitprincess
16/06/2015
The title of this book is a bit misleading since the main character, Leah, doesn't become the centurion's wife until the very end of the book. The vast majority of the book concerns Leah's searching out information for her mistress, Pontius Pilate's wife. She wants to know about the followers of "the prophet", or Christ, and whether or not they plan to overthrow her husband. At the same time, in a separate search, Alban, the centurion, is finding out information for Pilate himself. I had a difficult time getting into this book. I never really warmed up to the characters; they seemed remote and wooden to me throughout the book. in fact, I found that I actually really didn't care what happened to them. I did enjoy the history, however, and I did get a feel for what Jerusalem may have been like during the weeks following the crucifixion of Christ. The authors have done a good job of making the setting realistic. The message, of course, of Christ's salvation, is a good one and an important one, and if someone gets inspired by this book, more power to them.
Review by maryanntherese
16/06/2015
The Centurion's Wife is the first installment in a promising new series entitled Acts of Faith. Set in Ceasarea and Jerusalem at the time of the Crucifixion of Christ, the story is told from two perspectives. First is Leah, a poor relation of Pontius Pilate whose circumstances force her to become a servant in his household. Then there is Alban, a Gallic Roman centurion who has offered for Leah's hand in the hopes of advancing his own career.The events surrounding the trial, death and subsequent disappearance of the body of Jesus have everyone unsettled. Pilate and Herod are concerned about a possible Jewish revolt in the province. Pilate's wife is suffering from unspeakable headaches and nightmares.Pilate allows Alban to become betrothed to Leah, who is legally a Jewess by her mother's mother, in a traditional Jewish ceremony. To claim his bride, Alban must find the body of Jesus, and determine if a revolt is imminent.Leah, who wants no part of marriage, is tasked by Pilate's wife to find out all she can about the followers of Jesus.The characters are interesting and sympathetic. The title of the book, and the fact that it is proclaimed a "first-in-series," give away the ending. But how they manage to get there, and what happens Leah and Alban along the way, is an interesting tale.Most interesting for me was the reaction of people to the Resurrection right when it happened, as portrayed in the book. It led me to ask myself what I might have thought, might have done. I was a little uncomfortable with development of personalities for Biblical characters such as Pilate and his wife, Mary Magdalene, Lazarus and his sisters. But, how else to tell a story?The ending of the book was left a definite cliff-hanger, with Alban's fate as a centurion in the balance still. I think they overplayed their lead-in to a sequel just a bit. I would have liked a major issue such as that settled in the same volume.Overall this was an enjoyable, thought-provoking tale of Judea at the time of it's biggest crisis.
Review by MrsLee
16/06/2015
This story encompasses the people and events in Jerusalem during the weeks after the crucifixion of Jesus of Nazareth. It focuses on a woman, Leah, who is a servant to Pontius Pilate's wife and one of his centurions, Alban. These two are commissioned to find out what happened to Jesus' body and whether or not his followers are planning a rebellion.The details of Jerusalem and those who dwelt there at this time in history, make it very interesting. I found myself a bit impatient with Leah and the "patness" of the story, but it was satisfactory reading for what it was. Alban was too good to be true, but sometimes that's nice in a hero. I don't think an unbeliever would think this story believable, but for me, a believer, it was.
Review by libraryclerk
16/06/2015
Takes place after the death of Jesus. Pilate and Herod wants to know what happened to the body of this prophet and if there will be a revolt by his followers. Pilate sends Alban, the centurion, to get the information. Pilate's wife, Procula, who has nightmares about his Jesus, sends out her servant, Leah, who is also Pilate's niece. Alban and Leah do not know that they are looking for the same thing. Incorporates several Biblical stories to connect the characters. It mixes people of different cultures and has become a good start for the series Acts of Faith.
Review by MichelleSutton
16/06/2015
The thing that thrilled me about this story was how the reader also needed to examine what to do with the man, Jesus. If He had indeed risen from the dead, what did that mean for them? I loved the setting and the way the authors led the reader on a spiritual journey as well. I was deeply moved as the story concluded. This is the kind of story that leaves an impact on your heart and makes you think more about your faith.
Also in the Acts of Faith series | View all