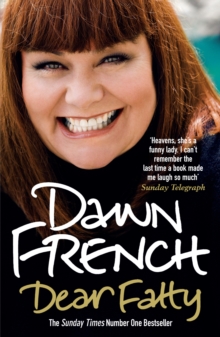 Description
Dawn French is one of the greatest comedy actresses of our time, with a career that has spanned nearly three decades.
Loved for her irreverant humour, Dawn has achieved massive mainstream success while continuing to push boundaries and challenge stereotypes.
Here she describes the journey that would eventually establish her as a perhaps unlikely, but nevertheless genuine, national treasure.
Dawn began her career as part of the groundbreaking alternative comedy group, the Comic Strip, marking a radical departure from the more traditional comedy acts of the time.
Later came the all-female Girls On Top, which teamed Dawn with Jennifer Saunders, Ruby Wax and Tracy Ullman and firmly established women in British comedy. As part of the wildly successful and much loved duo French and Saunders, Dawn helped create a repetoire of brilliantly observed characters, parodying popular culture and impersonating everything from Madonna and Harry Potter to The Exorcist.
Dawn's more recent role in the Vicar of Dibley showcased not only her talent but also her ability to take a controversial and topical issue and make it mainstream - and very funny. From her early years as an RAF child and her flat-sharing antics with Jennifer Saunders, to her outspoken views on sizism and her marriage to Lenny Henry, Dear Fatty will chronicle the extraordinary, hilarious rise of a complex, dynamic and unstoppable woman.
Free Home Delivery
on all orders
Pick up orders
from local bookshops
Reviews
Showing 1 - 3 of 3 reviews.
Review by LynleyS
16/06/2015
I saw Dawn French interviewed on Parky and he asked her why she wanted to write an autobiography at the age of 50. She said it had got to the stage where if she didn't do it herself, someone else would make heaps of money doing the unauthorised version for her.Throughout this book I got the feeling that Dawn French is truly annoyed with the whole celebrity thing. Amid all the humour (and there really were some laugh-out-loud moments), the letters to Madonna and several others, including her first fiancee, David, read like a get-back-at-ya. Which they probably were. And they were probably deserved. I don't live in Britain, so I don't know the stories behind the stories, but I imagine most people who are interested enough to read Dawn French's bio would know about these media maelstroms.Structured as a series of letters to her nearest and dearest, this bio really does feel like more of an intrusion into someone's private life. It's not really, because Dawn French wrote it herself, and she included exactly what she would like people to know about herself. But it certainly felt like it, especially in the letters to her father, who committed suicide when French was just 19.Dawn French's voice came through loud and clear in this autobiography. It was an easy, entertaining read with some tender moments.
Review by tapestry100
16/06/2015
Dawn French (one half of the British comedy duo, French and Saunders) may be one of the funniest women alive today. The other funniest woman alive today is Jennifer Saunders, the other half of French and Saunders. For those not familiar with either, they have had a successful run at BBC with their variety show, <i>French and Saunders</i>; Dawn French may be best known for her role in <i>The Vicar of Dibley</i>; Jennifer Saunders is probably best know for her role as Edina in <i>Absolutely Fabulous</i>; both have also starred in shows too numerous to list here. And every single show that I have seen them in has been top notch.<i>Dear Fatty</i> is Dawn French's memoir. Like anything that French does, her memoir is frequently laugh-out-loud funny. What surprised me most about her memoir is how unflinchingly honest she is throughout. She relates her life, both its ups and downs, as best she remembers it. Written in the form of letters to her friends and loved ones, <i>Dear Fatty</i> touches on the funny and the sad in French's life. For instance, one letter is to her father, who committed suicide when she was 19, and in one paragraph that goes on for almost two pages, she asks him questions. Why he did what he did; why didn't he ask for help; etc. By the end of this particular letter, I'm not ashamed to say that I had tears in my eyes. Her frustration of 30 years of unanswered questions is so evident, and she does nothing to hide that. Of course, not wanting to keep her readers in too serious a mood, she immediately segues into far more lighthearted material, but that honesty is there and it can be raw and emotional, and I respect her all the more for it.I never doubted her ability to write; watch any of her sketches or shows, and it's obvious she has a talent, and she excels at proving that over and over again in her book. One of my favorite lines from the book is:<blockquote>"It's a process of having faith in the self you don't quite know you are yet... Believing that you will find the strength, the means somehow, and trusting in that..."</blockquote>Words that speak volumes to me in my life right now.I don't that many people would rush out to buy this book. First off, I'm not even sure it's available in the US yet, and secondly, I don't know that anyone who isn't a fan of Dawn French would really care all that much. But for those of us who are fans, this is a gem of a book, and even if you aren't a fan of Dawn French, I still think you'd find this a funny and revealing look into the life of one of the funniest ladies out there right now.Highly recommended.
Review by birdsam0610
16/06/2015
I seem to be drawn to biographies and travel memoirs to read on my daily commute. My theory is that they're easy to pick up and put down and there's no gripping scenes that will have you miss your stop.Dear Fatty was good, but I always knew when it was my stop.Dawn French has written her autobiography as a series of letters to various people (in case you didn't know, 'Fatty' is Jennifer Saunders of Absolutely Fabulous fame). It's not strictly linear, jumping back and forth between episodes in childhood and adolescence but becoming more streamlined as she moves into adulthood. I felt she was 'dodging' some issues (which become clearer later in the book) and it was a bit strange to read about her love for her husband (as I've been told that they've broken up). Vicar of Dibley fans will be disappointed that the show only appears in a couple of letters.Dawn comes across as very funny in her letters and the letters are very well written. Nothing ever drags. I found it a little difficult at times to keep up with the names of some people, but I'd recommend this as a good light read for a commute or aeroplane.