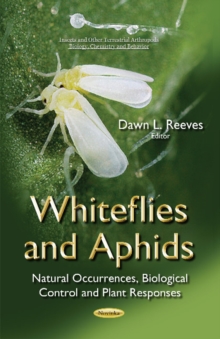 Whiteflies & Aphids : Natural Occurrences, Biological Control & Plant Responses
Paperback / softback
Description
Whiteflies are one of the major insect pests of greenhouse production systems worldwide, feeding on a wide-range of greenhouse-grown horticultural crops.
Whiteflies cause both direct damage by feeding on plant parts such as leaves as well as indirect damage by vectoring certain plant viral and bacterial diseases.
In addition, since whiteflies feed within the phloem sieve tubes with their piercing-sucking mouthparts, they may excrete honeydew, a clear, sticky liquid that serves as a growing medium/food source for certain black sooty mould fungi.
This book examines the biological control of whiteflies as well as aphids, which are serious pests of agricultural crops, particularly in cereal crops including winter wheat.
Aphids induce stress to the wheat crop by damaging plant foliage, lowering the greenness of plants, and affecting productivity.
Therefore, it is very important to monitor and prevent effectively wheat aphid for crop management.
Additional chapters provide remote sensing data on aphid monitoring and prediction; and changes in the distribution of Russian wheat aphid biotypes in South Africa.
Information
Format: Paperback / softback
Pages: 81 pages
Publisher: Nova Science Publishers Inc
Publication Date: 01/06/2015
Category: Pest control
ISBN: 9781634825078