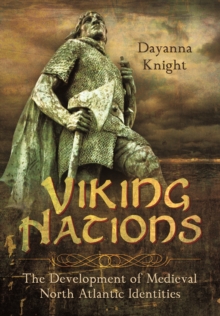 Description
How was the North Atlantic settled? How did the distinct cultures of medieval Iceland and Greenland come to be?
Viking Nations is an interdisciplinary consideration of medieval North Atlantic settlement that focuses on not only site-related identity but also the active choices made to adopt elements of identity.
It utilizes comparative analysis of evidence to highlight terrestrial and marine drivers to identity development in relation to the site context.
By adopting this approach it is possible to more closely examine not only the settlement of the North Atlantic but also the apparent taming of the Vikings concurrently taking place.
This book illustrates the priorities expressed by medieval settling populations in relation to particular contexts.
It proposes a method for planning ships' cargos which corresponds to identity development amongst the constituent Atlantic archipelagos.
This work is written for an educated audience desiring to know more about the medieval North Atlantic beyond Viking stereotypes.
Enough detail is included that medieval specialists will also enjoy the book.
Information
Format: Hardback
Pages: 256 pages, 150 photographs
Publisher: Pen & Sword Books Ltd
Publication Date: 08/02/2016
Category: European history
ISBN: 9781473833937