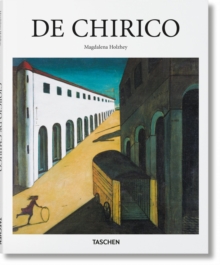 Description
De Chirico's paintings during the teens in Paris, where he moved in 1911, caused such a stir that such important figures as Picasso and Paul Eluard immediately praised them.
This phase of his work, which he later termed pittura metafisica (metaphysical painting) was marked by dramatic compositions involving sharp perspective, striking shadows, geometrical planes, voids of space, and a general feeling of anxiety and loneliness; the sense of absurdity evoked by the mannequin-like figures in almost nightmarish landscapes seemed to suggest a Freudian expression of the unconscious.
After 1930, De Chirico turned to a more classical style of painting and continued in the same vein for the rest of his career; his later work was widely criticized, especially by the Surrealists who had so admired his early paintings.
Free Home Delivery
on all orders
Pick up orders
from local bookshops