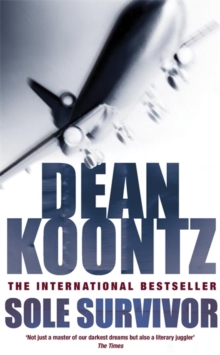 Description
Joe Carpenter's wife and two children perished with more than three hundred others in the crash of United Airlines Flight 353.
But one year later, haunted by the loss of his family and desperate to find purpose in life, he discovers that the official story of Flight 353 is a treacherous lie.
They say it was an accident. It was not. They say there were no survivors: that the crash was too devastating for anyone to live through it. But incredibly, Joe discovers one woman walked away unhurt from the disaster, with a secret that will change the world ...
Information
Format: Paperback
Pages: 448 pages
Publisher: Headline Publishing Group
Publication Date: 01/10/1997
Category: Horror & ghost stories
ISBN: 9780747254348
Other Formats
Paperback from £7.39
EPUB from £0.99
Free Home Delivery
on all orders
Pick up orders
from local bookshops
Reviews
Showing 1 - 2 of 2 reviews.
Review by reading_fox
16/06/2015
Very averge, in places bordering on annoying bad, but not without an underlying tensions and sufficient writing skill to keep the plot moving.Joe Carpenter is a wreak, and has been since he lost his wife and two daughters in a plance crash. It is never explained why he wasn't on the plane with them. Part of his coping mechanism on the day of the first anniversary of their death, is to visit the beach and stare at the remorseless sea. Here he hopes to come to grips with why accidents happen. And is therefore somewhat surprised when two kids infrom him he's being covertly watched by some police like characters. He manages to dispel any curiosity and travels to his family's grave. Here he finds that strangness is continuing to surround him. He meets the enigmatic but compelling Rose Tucker, and watches in disbelief as she is chased and shot at by some undercover but obviously police like characters. In a sudden and somewhat unbelivable abrupt change of character Joe now becomes driven by anger and curiosity, and draws on his old contacts as a jurnalist to investigate. The vast conspiracy he uncovers comes as a shock to him, though it's completely obvious to the reader.Joe is fairly unconvincing, his abrupt changes between decisive action and then in a convenient quite point of the plot remembering he is sad and unmotivated, quickly fails to be belivable. The fairly standard conpiracy is also unremarkable, apart from the completely unbelivable 'secret' at the heart of it all. The evangelical tone of the last third certainly didn't help either.Koontz has a high reputation for thrillers, but this was distinctly mediocre.
Review by Heptonj
16/06/2015
I thoroughly enjoyed this book even though Mr Koontz is now writing very different to when he began. I like both the 'edge of the seat' scares and the philosophical thrillers in equal measure. This one is about a survivor from a plane crash who has discovered the truth about mankinds most pressing question. The story takes you through the crash, the emergence of the survivor and the tense chase that follows by people who want the survivor dead for their own reasons. A gripping story that shows both the lightness and the darkness of the human condition.