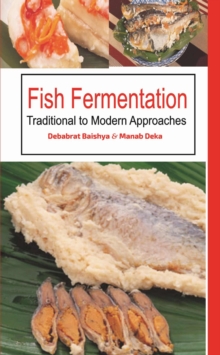 Fish Fermentation : Traditional to Modern Approaches
Hardback
Description
Fish Fermentation: Traditional to Modern Approaches is the first of its kind geared specifically for students interested in pursuing a career in Food Biotechnology and especially in Fish Processing Technology.
There is information about fermented fish from Southeast Asia.
Products from this region are highly salted and fermented until the fish flesh is transformed into simpler components and the fermentation process lasts for several months three to nine months and the fish flesh may liquefy or turn into a paste.
Fermented fish products from the north eastern part of India share many common features with that from other Southeast Asian countries.
Still some of the steps in the fermentation process are unique to the Northeast India.
More over the scenario varies with the varieties of the fermented fish items.
This book aims at bringing out not only the scientific basis of the fermentation process but also endeavors to cite the present market status of the fermented fish.
With its balanced coverage of historical development, microbial diversity, nutritional aspects and contemporary application, the book provides the tools and basic knowledge necessary for success in this industry. Special sections on Probiotics and Fermented Fish, Starter Culture in Fish Fermentation are in great detail which is the outcome of various research works.
This book is therefore, suitable for undergraduate, postgraduate as well as research students.
The first , Fermented Food Products in India depicts about various fermented food items available in India and international scenario is also highlighted.
The second , Traditional Fish Preservation Techniques gives an idea of traditional system of fish preservation in various parts of the world will surely help the students as well as the research students to carry out various projects in this field and in designing the protocol for standardization of fish preservation technique.
The third , Microbial Diversity describe about the world of microbes in the fermented fish products, their role in fermentation, desirable and associated types of microbes in fish fermentation, the spoilage group of microbes involved in fish fermentation, pathogenic microbes and possible health hazards, the beneficial group of microbes in the process and the relevant data of various research works. In the fourth , Nutritional Aspects of Fermented Fish, the nutritional value of a variety of fermented fish products are highlighted, their role as an important protein supplement for many nutritional diseases is also projected.
This will give a basic idea of nutritional quality of fermented fish products. 5 and 6 are mainly aimed at introducing cutting edge technology in the field of fish fermentation which, in turn, is the result of the advent of modern biotechnological tools."
Information
Format: Hardback
Pages: 138 pages, tables, figures, colour plates
Publisher: New India Publishing Agency
Publication Date: 01/01/0001
Category: Fisheries & related industries
ISBN: 9789380235103
Free Home Delivery
on all orders
Pick up orders
from local bookshops