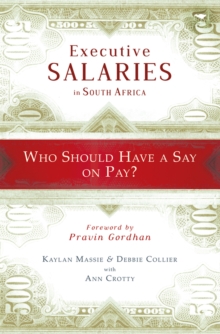 Executive salaries : Who should get a say on pay?
Paperback / softback
Description
Can regulation lead to transformation? In 2006, Crotty and Bonorchis published a study of executive pay across 50 of South Africa's largest and most influential listed companies.
In their study, titled Executive Pay in South Africa - Who Gets What and Why, the authors revealed that in 2005, on average, the chief executives of these companies got paid more than R15 million a year, more than 700 times the minimum wage in certain industries.
The authors predicted that without government intervention, executive packages would continue to sky-rocket. In Executive Salaries: Who Should Get a Say On Pay? the chief executive pay-packages of the companies studied in 2006 are re-examined.
Unfortunately, the predictions made in 2006 have come true: despite affirmative action measures and changes to corporate governance requirements, executive salaries have continued to increase dramatically.
South Africa's widening income inequality and its history of racism, poverty and social unrest demand that something be done to reverse this trend.
Social cohesion cannot be achieved when inequality remains rampant.
But what will it take for companies to rein in excessive executive salaries?Who must be given a say on pay in order to ensure that the directors responsible for setting pay take into account more than just the interests of executives?
Should shareholders, employees, the tax man or the remaining 99% of society have a say on what the 1% are being paid? Or is change only possible if a more fundamental shift in attitudes is achieved? This book addresses these pressing issues and considers possible mechanisms to rein in excessive executive pay.
From modifying corporate governance standards and the tax code to properly enforcing current labour legislation, there are numerous avenues that may ameliorate the wage gap.
Legislative amendments aimed at encouraging activist shareholders and empowering the workforce could put South Africa on the road to recovery.
Without these interventions, South Africa will continue on a path of instability and unrest, while the rich get richer and the poor become poorer.
Information
Format: Paperback / softback
Pages: 220 pages
Publisher: Jacana Media (Pty) Ltd
Publication Date: 01/03/2014
Category: Employment & labour law
ISBN: 9781431410125
Free Home Delivery
on all orders
Pick up orders
from local bookshops