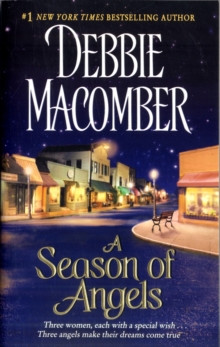 A Season of Angels
Paperback
Part of the Angels series
Description
"Debbie Macomber's name on a book is a guarantee of warm-hearted, endearing romance that will captivate and charm her legions of readers." -Jayne Ann Krentz "Move over It's a Wonderful Life...Warm, funny, romantic...Sit back, kick off your shoes, and enjoy!" -Linda Lael Miller "Shirley, Mercy, and Goodness will touch the lives of every reader." -Lori Copeland This is the novel that started it all from #1 New York Times bestselling author Debbie Macomber-the first appearance of delightfully ditsy yet well-meaning guardian angels Shirley, Goodness, and Mercy.
A Season of Angels is a heartwarming Christmas story that can be enjoyed all the year round, as this trio of endearing heavenly helpers returns to Earth to answer the prayers of three lovelorn souls...and must teach them valuable lessons about love and giving in the process.
Information
Format: Paperback
Pages: 384 pages
Publisher: HarperCollins Publishers Inc
Publication Date: 01/01/1994
Category: Romance
ISBN: 9780061081842
Other Formats
Paperback from £8.95
EPUB from £3.99
eAudiobook MP3 from £8.99
Free Home Delivery
on all orders
Pick up orders
from local bookshops
Reviews
Showing 1 - 1 of 1 reviews.
Review by drebbles
16/06/2015
Shirley, Goodness, and Mercy are three sincere but mischievous angels sent down to earth to answer three different sets of prayers. Shirley is to help nine year old Timmy Potter who wants a new father. His mother Jody has been a widow for many years but still loves her late husband and is not sure she is ready to start dating again. Goodness is to help Monica Fischer, a preacher's daughter who wants to get married. The problem is Monica is a bit too prim and proper and the man she has fallen for, Chet Costello, is the exact opposite. Mercy is to help Leah Lundberg, a maternity nurse who longs for a child of her own. Unfortunately, she's not been able to conceive and her attempts to get pregnant are putting a strain on her marriage. The three angels have just a short period of time to fulfill their missions but will they be successful?First released in 1993, "A Season of Angels" is a very cute if somewhat dated novel. The story is set at Christmas time and author Debbie Macomber does an excellent job of capturing the magic of the season and the three angels, who mean well but sometimes succumb to the pull of earthly items like televisions, forklifts, and church organs, are a nice touch. The three stories within the book (this is one novel not three separate stories) are all interesting although I liked some better than others. I thought the Timmy and Jody story was the weakest one. The plot was a sad one – a wife trying to move on after the death of her husband – but Macomber puts in an unbelievable twist, which, while it guarantees a happy ending, never quite worked for me. I liked the Monica/Chet storyline a bit better. Monica was a bit unlikable at the start of the story, a bit of a prig, but the romance between her and Chet sizzled and I loved reading the encounters between the two. They are such opposites that sparks fly each time the two go together. Macomber is not a "spicy" author yet the romance between the two was "hot". Leah's story was my favorite – it was the most developed and realistic and her anguish over not being able to have a baby was very real. There is a wonderfully done scene when Leah wants to take her temperature before making love with her husband – his reaction is totally believable and shows how much the childless issue also affects him. Like Jody's storyline, Leah's is wrapped up a bit too tidily but the novel, after all, is set during the magic of Christmas.The one complaint I have about "A Season of Angels" is that it has been reissued and sold as new without any updating. A lot has happened since 1993 and the book could use some modernization. This is especially true in Jody's storyline which partially deals with a historical event and there are some things that happen in that plot line that probably could not take place in a post 9/11 world. Macomber is a busy and prolific author but she should have taken the time to update the book for her faithful readers.