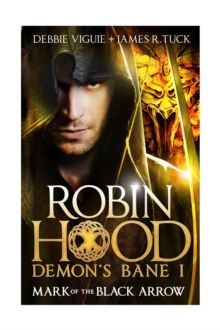 Robin Hood: Demon's Bane : Mark of the Black Arrow
Paperback
Description
A vast darkness is spreading. If left unchecked, it will engulf the world, and so Richard the Lionheart must depart England on a holy mission.
In his absence, the safety of the realm is entrusted to his brother, Prince John.
When the king departs, black sorcery begins to grip the land, threatening noble and peasant alike.
Horrific creatures stalk the forests, yet the violence they commit pales when compared to the atrocities of men.
A handful of rebels fight back, but are doomed to fail unless they can find a hero to lead them.
Information
Format: Paperback
Pages: 368 pages
Publisher: Titan Books Ltd
Publication Date: 04/08/2015
Category: Fantasy
ISBN: 9781783294367
Free Home Delivery
on all orders
Pick up orders
from local bookshops
Reviews
Showing 1 - 1 of 1 reviews.
Review by Becky_L
27/08/2015
Electrifying, Terrifying Story of Good vs. Evil...A tale dark as Sherwood Forest itself, Robin Hood-Mark of the Black Arrow is full of the blackness of supernatural evil, lust for power, witches and demons. There are those who know the right, but will they stand up quickly and strongly enough to stop its spread before all of England is overtaken and eventually, the world?This book is not the Debbie Viguié to which I am accustomed reading (and she does have a co-author, James Tuck). The horror parts reminded me of Ted Dekker's style. The language and some risqué scenes cause me to rate the book a PG-13, a new thing for me. With that caveat in mind, the book should appeal to a wide range of readers.Reminiscent of today's music talent shows, at the end, I felt like a judge who rises to say, "Great job!! You've taken a popular song (in this case, well-known story) and truly made it your own!"I love how Tuck and Viguié grow their characters to become a semblance of the legends we know, but so much more developed and complex. I was kept wondering, how are they going to tie all this together to make it into an acceptable facsimile of the tale from old? But skillfully weave together the various characters they do, from Maid Marian to Friar Tuck to Little John and Will Scarlet, etc.The calling of Richard the Lion Hearted and Robin Hood and his helpers, and all who would fight evil, is best summed up by King Richard before he leaves:"Evil lives in this world, and every day it walks the earth, growing stronger. We have an opportunity. ..a duty to vanquish it now before it consumes everything. If we don't, the world will be covered in darkness, and there will be nowhere anyone can run to be safe...""Every war is waged on three battlefields. The earth itself, the human heart, and the realm of the spirits. Every so often the three battlefields merge into one." This may be more true than we realize.This is an electrifying, terrifying story of good vs. evil. Like many good stories, it is too involved for one volume, and necessitates volumes II and III to complete the saga.