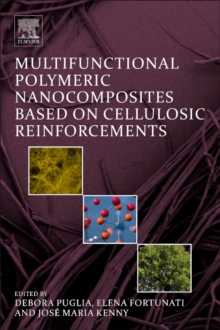 Multifunctional Polymeric Nanocomposites Based on Cellulosic Reinforcements
Paperback / softback
Description
Multifunctional Polymeric Nanocomposites Based on Cellulosic Reinforcements introduces the innovative applications of polymeric materials based on nanocellulose, and covers extraction methods, functionalization approaches, and assembly methods to enable these applications.
The book presents the state-of-the-art of this novel nano-filler and how it enables new applications in many different sectors, beyond existing products. With a focus on application of nano-cellulose based polymers with multifunctional activity, the book explains the methodology of nano-cellulose extraction and production and shows the potential performance benefits of these particular nanostructured polymers, for applications across different sectors, including food active packaging, energy-photovoltaics, biomedical, and filtration.
The book describes how the different methodologies, functionalization, and organization at the nano-scale level could contribute to the design of required properties at macro level. The book studies the interactions between the main nano-filler with other active systems and how this interaction enables multi-functionality in the produced materials.
The book is an indispensable resource for the growing number of scientists and engineers interested in the preparation and novel applications of nano-cellulose, and for industrial scientists active in formulation and fabrication of polymer products based on renewable resources.
Information
Format: Paperback / softback
Pages: 408 pages
Publisher: William Andrew Publishing
Publication Date: 12/07/2016
Category: Materials science
ISBN: 9780323442480
Free Home Delivery
on all orders
Pick up orders
from local bookshops