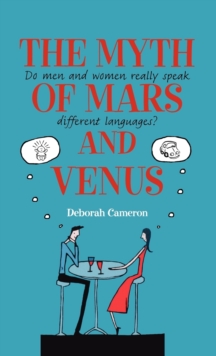 The Myth of Mars and Venus : Do Men and Women Really Speak Different Languages?
Hardback
Description
Popular assumptions about gender and communication - famously summed up in the title of the massively influential 1992 bestseller 'Men Are From Mars, Women Are From Venus' - can have unforeseen but far-reaching consequences in many spheres of life, from attitudes to the phenomenon of 'date-rape' to expectations of achievement at school, and potential discrimination in the work-place. In this wide-ranging and thoroughly readable book, Deborah Cameron, Rupert Murdoch Professor of Language and Communication at Oxford University and author of a number of leading texts in the field of language and gender studies, draws on over 30 years of scientific research to explain what we really know and to demonstrate how this is often very different from the accounts we are familiar with from recent popular writing. Ambitious in scope and exceptionally accessible, The Myth of Mars and Venus tells it like it is: widely accepted attitudes from the past and from other cultures are at heart related to assumptions about language and the place of men and women in society; and there is as much similarity and variation within each gender as between men and women, often associated with social roles and relationships.
The author goes on to consider the influence of Darwinian theories of natural selection and the notion that girls and boys are socialized during childhood into different ways of using language, before addressing problems of 'miscommunication' surrounding, for example, sex and consent to sex, and women's relative lack of success in work and politics.
Arguing that what linguistic differences there are between men and women are driven by the need to construct and project personal meaning and identity, Cameron concludes that we have an urgent need to think about gender in more complex ways than the prevailing myths and stereotypes allow.
Information
Format: Hardback
Pages: 208 pages
Publisher: Oxford University Press
Publication Date: 04/10/2007
Category: linguistics
ISBN: 9780199214471
Other Formats
Paperback from £7.89
EPUB from £1.94
Free Home Delivery
on all orders
Pick up orders
from local bookshops
Reviews
Showing 1 - 2 of 2 reviews.
Review by morag_eyrie
16/06/2015
This book carefully and in an evidence-based fashion busts all the current myths around the "differences" between men's and women' brains and language. At points scathing, very bracing. One of those ones you wish you could make everyone read. I wonder how the author feels about the fact that the entire design and packaging of the book screams "chick lit"- it's very disconcerting and made me feel embarrassed reading it on the train. It means that many people who might find this book useful might also overlook it on a bookshop or library shelf.
Review by kyuuketsukirui
16/06/2015
I originally read a series of excerpts from this book online on the Guardian's website and really liked what Cameron had to say. I still do, but unfortunately the book doesn't feel like it really expands on those essays at all, despite being almost two-hundred pages long. Also the section on trans people, while not outright offensive, made me :-/. She consistently talks about men who want to be women and women who want to be men, etc. Anyway, I recommend the essays, but don't feel like the book really had much to add.