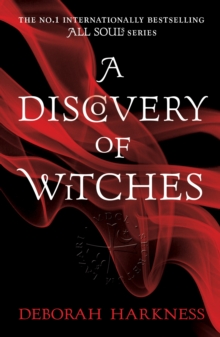 A Discovery of Witches : (All Souls 1)
Paperback
Description
Fall under the spell of Diana and Matthew in the stunning first volume of the No.1 internationally bestsellling ALL SOULS trilogy.
A world of witches, daemons and vampires. A manuscript which holds the secrets of their past and the key to their future.
Diana and Matthew - the forbidden love at the heart of it.When historian Diana Bishop opens an alchemical manuscript in the Bodleian Library, it's an unwelcome intrusion of magic into her carefully ordered life.
Though Diana is a witch of impeccable lineage, the violent death of her parents while she was still a child convinced her that human fear is more potent than any witchcraft.
Now Diana has unwittingly exposed herself to a world she's kept at bay for years; one of powerful witches, creative, destructive daemons and long-lived vampires.
Sensing the significance of Diana's discovery, the creatures gather in Oxford, among them the enigmatic Matthew Clairmont, a vampire genticist.
Diana is inexplicably drawn to Matthew and, in a shadowy world of half-truths and old enmities, ties herself to him without fully understanding the ancient line they are crossing.
As they begin to unlock the secrets of the manuscript and their feelings for each other deepen, so the fragile balance of peace unravels...
Information
Format: Paperback
Pages: 704 pages
Publisher: Headline Publishing Group
Publication Date: 01/09/2011
ISBN: 9780755374045
Free Home Delivery
on all orders
Pick up orders
from local bookshops
Reviews
Showing 1 - 5 of 10 reviews.
Previous | Next
Review by Eyejaybee
16/06/2015
Utterly abysmal. I have had more enjoyment from traumatic visits to the dentist than I derived from reading this garbage.
Review by zjakkelien
16/06/2015
A discovery of witches is a none too fast-paced urban fantasy novel. I rather liked it, but I do have two remarks: first, the book should have been shorter. There are large parts in it where nothing happens. Now usually, I am hugely in favor of building atmosphere, building worlds, and giving background information. I don't like fast-paced urbans. So some of those bits I actually enjoyed, but even for me, there was too much of it. I don't need to have every cup of tea and glass of wine described to me. Just a few will do. After a while it stops being cosy and starts being annoying...My second remark is about Mathew. *sighs* How many vampire books are out there now? Was it really necessary not to come up with a single new trait? Guess what, vampires are long-lived, wealthy, have superior senses, are fast, and when they fall in love, possessive enough to shame Christian Grey. Particularly the possessiveness annoys me greatly. I'll admit he gets a bit better in the end, but really, what's with the ordering around and obeying? Clearly the girl having to do the obeying, but she stays with him because she loves him so much? Ugh. So, if you read all that you might think I didn't like the book, but I did. There are some parts where there actually is a lot of action, Half of the none action bits I did like, and I rather enjoyed the mystery. I think that's the main reason I'll continue with the next books: I want to know why Diana's parents were murdered, what is in the Ashmole 782 book and what's going to happen next.
Review by riverwillow
16/06/2015
I picked up this book in my local independent bookshop not really knowing much about it but thinking it looked interesting. But this is <i>Twilight</i> for adults, with a bit of <i>The Da Vinci Code</i> thrown in for good measure, and, sadly, I'm not a fan of either book, but I'm sure that this will be a winning formula. Throughout the book I kept feeling that this could have been so much more. There was a moment half way through where she could have really shaken things up and gone off in an interesting direction, but she resisted the urge and stuck to the formula. I'm not sure if I'll read the second in the series, but then I'm curious to see what, as an academic who seems to have specialised in the Renaissance, she does with Marlowe, but sadly I fear the worst.
Review by moosenoose
16/06/2015
Firstly I have to say that I hate all the references people make to Twilight when reviewing this, and other, vampire based books. Twilight was not the first vampire book written and will not be the last, but we should not base every single book on that trivial nonsense. So please people, give it a rest already!So onto the review. I enjoyed this book - as a big fan of old traditional libraries, the fact that this books starts off in Oxford's Bodleian Library immediately had me hooked. Add in the mysterious and very old manuscript plus a witch or two and I'm sold! Witches are great fun - I love the idea of magic and spells plus the lure of Salem tales. I found Diana a very strong likeable character. She is stubborn and most importantly smart. It's nice to have a brainy female lead for once! Matthew was a spoilt self assured ass at first, but then he grew on me. I still think he is a bit of a know it all, but then I guess that's what happens when you are hundreds of years old. I like the way their relationship advanced and the historical and scientific facts chucked in here and there. I'm looking forward to the next book and seeing how Diana and Matthew cope with life in Elizabethan Britain.
Review by Beakif
16/06/2015
This is the second time I've read this book. Initially, I picked it up because I thought it looked interesting, but second time around it was simply because I needed something easy and laid back without worrying about any outcomes.The book is somewhat striking in its similarities to the Twilight novels, although with slightly more adult content at times. However, all the "naughty" bits are largely left to the imagination of the reader, with characters emerging from rooms with smiles on their faces. Fingers crossed the continuing books won't be put up for a bad sex award, not least because there is a great deal of stress and importance put on the fact that the main couple don't consumate their relationship, despite their occasional running off to dark corners...However, as a reader there isn't a lot new in the vampiric aspect of the book. The vampires, predictably, have a superb sense of smell, and eroticism is inextricably tied up with blood lust. Oh, and they're all gorgeous, smarmy, brooding and mysterious. So far, so predictable.The witches are slightly less stereotypical, although every story you've ever read about witches (vaguely historical or otherwise) seems to have been embodied at some point. Even down to the striped stockings and inability to control their powers. I couldn't help comparing the protagonist to Mildred Hubble from "The Worst Witch" at times, although we're repeatedly told how brave, humble and unassuming she is, despite (or perhaps in spite of) her terrible hair and not French enough sense of style.What sets this book apart from its contemporaries is the context it is set in. As someone who has studied sixteenth and seventeenth century history, I felt I could learn something from it, although the revelations in the final chapters as to the context of the next offering in the trilogy did make my heart sink somewhat. The addition of demons as a third magical creature was also interesting, although the complete absence of non-magical/otherworldly/vampiric/demonic characters was somewhat grating. The size of the book also seems slightly excessive, although like all good "easy" fiction, you fail to realise quite how quickly you actually work your way through it, and then tend to look back on it as a fun read.As a result, I have to say that I didn't mind the book, but neither did it thrill or excite me. Some of the plot twists were predictable, and for long swathes of the book it felt as though nothing much was happening while Harkness filled us in on the complex character backgrounds she has created. Despite that, I'll probably read the next book when it comes out, and simply hope it's slightly more concise! My hopes for human characters, though? I've left them long behind.