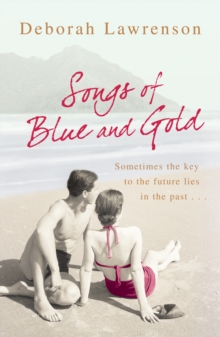 Songs of Blue and Gold
Paperback
Description
Sometimes the key to the future lies in the past . . . In the horseshoe bay of Kalami in Corfu, a tumultuous love affair begins between a renowned novelist and a woman escaping scandal.
Years later, her daughter Melissa, running from her own past, returns to the island ...
Melissa's life in England is in disarray. There are cracks in her perfect marriage, and her elderly mother, Elizabeth, is losing her memory and slowly drifting away.
In the last glimmers of lucidity, Elizabeth presents her daughter with a gift that suggests a very secret history - one that leads Melissa to Kalami, where Julian Adie, poet, traveller and novelist, once lived.
But what is the connection between Adie - an alluring hedonist who discarded four wives - and Melissa's mother Elizabeth?
As Melissa chases Adie's shadow across the golden places he loved, she finds her mother may not have been the person she thought.
Forced to question morality, loyalty and her own unwillingness to let love in, Melissa is gradually led to a dramatic re-evaluation of her own life.
Information
Format: Paperback
Pages: 448 pages
Publisher: Cornerstone
Publication Date: 07/08/2008
ISBN: 9780099505198
Free Home Delivery
on all orders
Pick up orders
from local bookshops
Reviews
Showing 1 - 1 of 1 reviews.
Review by DubaiReader
16/06/2015
Not ideal for an audiobook.Before reading this, I was more aware of the work of Gerald Durrell, the naturalist and conservationalist, than his brother Lawrence, on whom the main character of this novel was based. For the purposes of the novel, Lawrence is renamed Julian Adie, a strange device that grated a bit.Lawrence Durrell was born in India but subsequently moved to Corfu with his parental family at the age of 23. He obviously fell in love with the Island and wrote several books about it.Deborah Lawrenson's book centres around two periods of 'Julian Adie's' life - his first marriage to Grace (also an alias), which ended in divorce with one daughter, and his supposed fling with Elizabeth, one summer after the death of his third wife, when he and Elizabeth spent a glorious few months together. The third time zone is the present day, when Melissa travels to Corfu to recover from her mother's death and her own a marital shock, and to find out what she could about a suggestion that her mother may have spent some time on the island before she was married and that she had known Julian Adie.I think I enjoyed the account of Elizabeth and Adie's summer on Corfu most. The earlier days, with Grace, were less detailed and the current time zone contained the inevitable love affair which wasn't so well written and felt a bit contrived. Fortunately there were some wonderful Greek characters throughout and this was really what lifted the book for me.I listened to this as an unabridged Audible download and found that in this format, the three time zones and multiple, often Greek names, were hard to keep track of. This is probably a book that should be read in paper format to facilitate checking back for details. I also felt that the voice that the narrator, Patience Tomlinson, used for Melissa, was very squeaky and annoying.The book begged the question as to how much of the narrative was fact and how much fiction. Sometimes such books offer clarification at the end but there was no such epilogue here, which would have been useful.