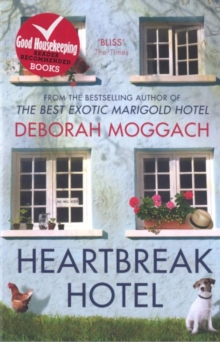 Heartbreak Hotel
Paperback
Description
From Deborah Moggach, bestselling author of The Best Exotic Marigold Hotel, comes another hilarious and romantic comedy, this time set in a run-down B&B in Wales.
When retired actor Buffy decides to up sticks from London and move to rural Wales, he has no idea what he is letting himself in for.
In possession of a run-down B&B that leans more towards the shabby than the chic and is miles from nowhere, he realises he needs to fill the beds - and fast.
Enter a motley collection of guests: Harold, whose wife has run off with a younger woman; Amy, who's been unexpectedly dumped by her (not-so) weedy boyfriend and Andy, the hypochondriac postman whose girlfriend is much too much for him to handle.
But under Buffy's watchful eye, this disparate group of strangers find they have more in common than perhaps they first thought..."Addictive and funny...If there is a book more like a Richard Curtis film, you'd be hard-pressed to find it". (Psychologies). "Just as exuberant and hilarious as The Best Exotic Marigold Hotel". (Good Housekeeping).
Information
Format: Paperback
Pages: 400 pages
Publisher: Vintage Publishing
Publication Date: 29/08/2013
ISBN: 9780099578628
Other Formats
Hardback from £11.25
EPUB from £0.99
Free Home Delivery
on all orders
Pick up orders
from local bookshops
Reviews
Showing 1 - 5 of 6 reviews.
Previous | Next
Review by nicx27
16/06/2015
I've read a few of Deborah Moggach's books, and have thought them mostly ok but nothing spectacular. I did, however, really like Heartbreak Hotel. It's a witty and entertaining story, with great characterisations and I loved every minute of it.In it, Buffy inherits a ramshackle B&B in Wales and gives up his London life to go and run it. He holds courses for divorces, which are courses for people who want to learn a skill that their ex-partner had such as car maintenance, gardening, cooking etc. I loved the various characters and although nothing ever went to plan in terms of the courses, they mostly went away from the B&B feeling fulfilled.This is an excellent read and one which I would highly recommend for making a reader smile.
Review by Eyejaybee
16/06/2015
I wasn't really sure whether I wanted to read this book, suspecting that it might be rather too simpering for my taste. Not a bit of it! It is very amusing and very shrewdly observed, and proved very enjoyable.Aging actor Russell "Buffy" Buffery has had quite an involved amatory career with three ex-wives and various other partners behind him, along with a host of children and stepchildren. As the novel opens he has just lerned that he has inherited an ailing bed and breakfast home from one of his old flames. The house is situated in Knockton, a town just inside Wales and despite his initial misgivings Buffy is taken with the town and decides to move there and take on the B&D, trying to make it a going concern. This proves more difficult than he had expected until he hits upon a novel twist - he will run courses for people recently emerging from marriages or relationships, teaching them how to cope with aspects of household management that had previously been their partner's domain.This is all managed very deftly, and is far more amusing and engaging than my brief synopsis above would suggest.
Review by jayne_charles
16/06/2015
A new Deborah Moggach novel is always a cause for great joy in my household. You could be forgiven for thinking she now writes exclusively about hotels: this one bears many similarities to its predecessor These Foolish Things (clumsily retitled to something about marigolds for the film version). Both are set in hotels, and both start with an overview of the 'guests', most of them occupying their own chapter, before they arrive. In actual fact, this is a follow up to a much older novel, "The Ex Wives" – I read it years and years ago but it was funny how the characters I had forgotten popped back into my head.Characterisation as always is great throughout. My favourite was the redoubtable Rosemary whose husband has run off with a waitress. "Fancy going to bed with someone who hasn't heard of Cliff Michelmore" she snorts. "It must be so bloody loneIy."It is very much a story of our times – constant reference to popular culture fixes it in place like a staplegun. Much amusement is wrung out of dodgy reception on mobile phones, and the whole story teems with gay characters.Where I had a problem with it was at the end. The structure of the novel – whereby characters are introduced and then ushered forward in little groups to have their individual stories concluded – felt odd. Monica occupied a chapter early on but by the time she reappeared at the end I had all but forgotten who she was. Then I felt the concluding phase hung around a bit too long. It was obvious what was going to happen, it all ceased to be real and started to be chick-lit. Except that there was a little bit of politics creeping in there, as Ben Elton might have put it.That aside, this was another witty and fun read from this author, and hopefully it won't be too long before the next.
Review by shelleyraec
16/06/2015
When aging actor Russell 'Buffy' Buffery inherits a B&B in rural Wales he stuns his family and friends by abandoning London to run it. Buffy finds he enjoys his role as host, but the crumbling manor is in desperate need of maintenance, and a steady occupancy rate, and he needs to find a way to fix it before it all falls down around him.The premise of Heartbreak Hotel, and the reputation of author Debbie Moggach, is what drew me to select this novel for review, unfortunately I was disappointed by the novel's structure. The drawn out stories of some of the individuals who eventually wind up at Heartbreak Hotel seemed disconnected to the narrative and the idea of the 'Courses for Divorces' was terrific but never fully exploited. The last half of the book, when the characters are brought together, is much stronger than the first.I did like the Moggach's characters, most of them find themselves at the B&B after a disappointment of some sort or another. Buffy is an interesting man, he had a successful career as an actor but now aged 70 he is reinventing himself as well as grappling with the missteps he made as a husband and father. For many the guests of Myrtle House their stay at the B&B has surprising consequences including new love and the kindling of new dreams.Heartbreak Hotel is often amusing and has some charm, but ultimately it was just an OK read for me.
Review by whitreidtan
16/06/2015
There's something charming about the idea of bed and breakfasts as opposed to hotels. Since most owners live in the B and B and take care of all aspects of their guests' stays, they have a personal and homely feel to them that you don't find in a larger hotel. And if you have a garrulous innkeeper, you have an automatic friend, someone who, like a bartender, is willing to listen to the stories and circumstances of your life and sometimes even offer advice. In Deborah Moggach's newest novel, Heartbreak Hotel, there is one such innkeeper in the shabby but still perfectly appealing Myrtle House. Russell Buffery, called Buffy, is a retired actor living in London. He has three ex-wives, a couple of ex-mistresses, and children and stepchildren. Amazingly, he maintains a cordial relationship of some sort with most of them. When an old friend dies and leaves him a bed and breakfast just over the border in Wales, he surprises everyone (including himself) by deciding to move to Knockton and take on the running of the place. It is a bit run down at the heels and despite not having enough money to do much more than patch, Buffy finds that he rather likes being the friendly, welcoming host. But he needs to fill his rooms on more than just the weekends. Then he has the bright idea to offer instructional weekends for those who have just gotten out of a relationship. The classes are intended to teach the newly single to do all of the things that their spouse or partner used to do for them, like gardening, car maintenance, cooking, basic home repair, and Buffy's own course: how to talk to women. The classes are a moderate success and they bring in a wide cast of characters, among them Harold, a blocked writer whose wife has left him for a woman; Monica, a driven businesswoman who finally realizes that her affair with her married lover meant very little to him and cost her almost a decade of her life; Amy, a movie makeup artist whose long term, rather lackluster, live-in lover surprised her by leaving one day; and Andy, the handsome postman whose marriage to a woman he never really knew well has fizzled out. Add in Buffy's children; Voda, who cooks and cleans for the hotel; and Nolan, still living with his mother and made redundant at his job until he's hired to run the car maintenance course, and you have a whole stew of lonelyhearts trying to learn livable skills, how to be in charge of everything in their own lives, and even how to love or find happiness in the world again. The characters are pitiable but loveable and each one is grappling with a unique heartbreak situation. Their tenure at Myrtle House will change all of them. Buffy himself will be changed too as he looks back at the past failures in his interpersonal relationships and learns new ways of being with people from his guests. All of the disappointed in love are given extensive backstories, detailing the failed relationships that sent them to Buffy's to learn some heretofore unneeded life skill. While the in-depth information on each of the characters is, in fact, necessary to the story, the way that they are interspersed with Buffy's story, and oftentimes quite removed from their appearance at the bed and breakfast, can make it hard to remember which person at the hotel belongs to which backstory. But the story is engaging and sweet and Moggach is great at getting the reader to appreciate the myriad of quirky characters. There are moments of biting humor that help keep this from becoming over the top and Moggach seems to have a sure sense of when to use a light hand and when to push reality a bit more. While the characters may not learn what they intended to learn when they signed up for their course at Myrtle House, they do learn important things about the power of reinvention and change in this inviting and ultimately heartwarming novel.