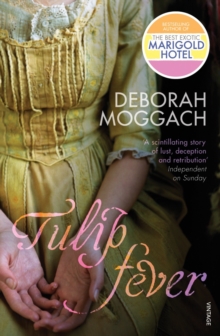 Description
Seventeenth-century Amsterdam is a city in the grip of tulip mania, basking in the wealth it has generated.
Sophia's husband Cornelis, an ageing merchant, is among those grown rich from this exotic new flower.
To celebrate, he commissions a talented young artist to paint him with his young bride.
But as the portrait grows, so does the passion between Sophia and the painter; and as ambitions, desires and dreams breed an intricate deception, their reckless gamble propels their lives towards a thrilling and tragic conclusion.
Information
Format: Paperback
Pages: 288 pages
Publisher: Vintage Publishing
Publication Date: 31/07/1999
ISBN: 9780099288855
Free Home Delivery
on all orders
Pick up orders
from local bookshops
Reviews
Showing 1 - 5 of 6 reviews.
Previous | Next
Review by miss_read
16/06/2015
Set in Amsterdam in the 1630s, this is the story of a wealthy merchant, Cornelis Sandvoort, and his beautiful, much-younger wife, Sophia. The merchant commissions an artist, Jan van Loos, to paint a portrait of the couple, and the wife and the artist embark on an affair. The story is supposed to be about betrayal, deception, greed, etc., but to me it read more like a silly romance novel. There wasn't enough depth of feeling on the main characters' parts for me to really care about their betrayals. The parts about the mad tulip bulb speculation of the time, however, was fascinating, as I'd known nothing about it. The author did a better job of describing the setting than she did the characters who inhabit it. The whole story seems to turn on a case of mistaken identity, which isn't really believable. The story of Maria, the Sandvoort's servant, is far more interesting than that of Cornelis, Sophia and Jan.This was a quick, light read. Not objectionable, but not worth remembering for long.
Review by CatyM
16/06/2015
The basic plot: at the height of Holland's tulip-mania, a young wife is attracted to the painter her elderly husband commissions to paint their family portrait.The writing is very atmospheric:<i>"She stands there, motionless. She is suspended, caught between past and present. She is colour, waiting to be mixed; a painting, ready to be brushed into life. She is a moment, waiting to be fixed for ever under a shiny varnish. Is this a moment of decision? Will she tear up the letter or will she steal away, through the silent rooms, and slip out of the house? Her face, caught in profile, betrays nothing."</i> (p. 46)It is good, but it's not great. As well as a sound (if somewhat depressing) plot, a strong sense of time and place and fairly strong characters, there are some comic moments and some excellent writing. The characters consistently exhibit flawed judgement, and as a study of the stupid things people do it's quite interesting.
Review by jayne_charles
16/06/2015
An unusual setting for a novel, particularly from this author who generally writes about the modern age. She has done her research, though, and this book is full of atmospheric historical detail contained within her usual lively prose. The edition I read even had a series of photographs showing Dutch art of the seventeenth century, which provided added context.The story is of a secret love affair and a daring deception. You desperately want it to work out, but fear it may not....A good read with a very original feel.
Review by queensheherezade
16/06/2015
Another tantalising tale from one of my favourite authors. An unputdownable book. Brimming with exquisite imagery and luscious details of the sounds, smells and sights of 17th century Amsterdam. Impeccably researched and lovingly written, the plot unfolds at a vigorous pace. I haven't finished reading it yet, but I will be sure to update this review when I do. I've also got the edition with the images of Dutch paintings interspersed throughout, which is a nice touch. So far, so fabulous...
Review by startingover
16/06/2015
Set in Amsterdam, 17th century, and features an artist as one of the central characters. It's perhaps pacier (and racier!) than the Chevalier novel and features colour plate reproductions of some Vermeers, de Hooches and similar, which work very nicely with the text. It's actually very different from the Chevalier - more plot- than character-driven, very gripping story. [July 2002]