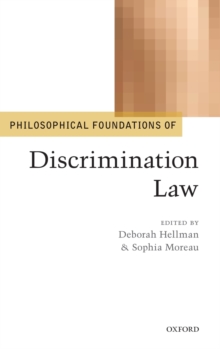 Philosophical Foundations of Discrimination Law
Hardback
Description
How do we understand and justify the particular partialities that discrimination law tries to protect against?
Are different discrimination laws from around the world grounded in a single set of norms? And does discrimination law fail to treat people as individuals?The philosophical study around discrimination law in the private and public sector is a relatively young field of inquiry.
This is owing to the fact that anti-discrimination laws are relatively new.
It is arguably only since the Second World War that these rights have been adopted by countries in a broad sense, ensuring that all citizens have civil rights and the right to non-discrimination.
Theory around discrimination law has until recently been threefold, doctrinal in its approach,questioning equality - why it matters and why should it influence legislatures in the design of policy - and thirdly focusing on the issue of affirmative action. This volume takes a fresh look at the philosophy of discrimination law, identifying points of discussion in need of further study. It addresses how we are to understand and justify laws prohibiting discrimination.
For instance, how discrimination might be best conceived - as a personal wrong or as an unfair distribution of resources.
The volume then turns to a number of meta-theoretical questions, whether different discrimination laws are coherent and grounded in collectively held beliefs orare instead a collection of very different rules that have no underlying coherence.
Lastly, the authors focus on issues in discrimination law that are currently the topic of considerable political debate.
The questions raised here are urgent and necessary and it is the hope of the authors that otheracademics and philosophers may join in their discussions.
Information
Format: Hardback
Pages: 304 pages
Publisher: Oxford University Press
Publication Date: 17/10/2013
Category: Social & political philosophy
ISBN: 9780199664313
Also in the Philosophical Foundations of Law series | View all