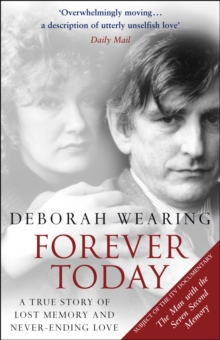 Forever Today : A Memoir of Love and Amnesia
Paperback
Description
Clive Wearing has one of the most extreme cases of amnesia ever known.
In 1985, a virus completely destroyed a part of his brain essential for memory, leaving him trapped in a limbo of the constant present.
Every conscious moment is for him as if he has just come round from a long coma, an endlessly repeating loop of awakening.
A brilliant conductor and BBC music producer, Clive was at the height of his success when the illness struck.
As damaged as Clive was, the musical part of his brain seemed unaffected, as was his passionate love for Deborah, his wife.
For seven years he was kept in the London hospital where the ambulance first dropped him off, because there was nowhere else for him to go.
Deborah desperately searched for treatments and campaigned for better care.
After Clive was finally established in a new special hospital, she fled to America to start her life over again.
But she found she could never love another the way she loved Clive.
Then Clive's memory unaccountably began to improve, ten years after the illness first struck.
She returned to England. Today, although Clive still lives in care, and still has the worst case of amnesia in the world, he continues to improve.
They renewed their marriage vows in 2002. This is the story of a life lived outside time, a story that questions and redefines the essence of what it means to be human.
It is also the story of a marriage, of a bond that runs deeper than conscious thought.
Information
Format: Paperback
Pages: 400 pages
Publisher: Transworld Publishers Ltd
Publication Date: 17/09/2005
Category: Romance
ISBN: 9780552771696
Free Home Delivery
on all orders
Pick up orders
from local bookshops
Reviews
Showing 1 - 3 of 3 reviews.
Review by michellelliott
16/06/2015
I think this book thoughtfully covers an uncommon topic such as amnesia. Underlying the amnesia is a story of real love and soul mates.
Review by Meggo
16/06/2015
I was very torn about this book. On the one hand, it is the absolutely fascinating, and tragic tale of a musician and conductor who suffered a devastating form of amnesia after a bout of encephalitis - he can only remember a few second of time, so virtually every moment is, for him, the first moment he woke up. His diaries are filled with "9 am Woke up for the first time today. 9.02 am Truly woke up for the first time. 9.05 am Actually fully awake for the first time." On the other hand, it is the narcissistic story of Deborah Wearing, a younger woman who became the conductor's second wife, and who could not stop talking about herself, her struggles, and her spiritual quest. She eventually institutionalizes her husband, leaves the country, divorces him, and then remarries him, and claims theirs is a love for the ages. I wasn't buying it, and mostly came away disliking Deborah Wearing and her selfishness, and pitying the husband, whose condition only marginally improved with the passage of years.
Review by JanaRose1
16/06/2015
Imagine one day your husband falls sick with the flu. The next day is his incoherent and delusional. You rush him to the hospital, only to discover that a virus has completely destroyed the memory part of his brain. He is trapped, every conscious moment feels as if he has just woken from a coma, an awakening he repeats every few seconds. Clive Wearing is one of the most extreme cases of amnesia ever known. A brilliant conductor and music producer, he was at the height of success when his memory was taken from him. Written by his wife, this is a story of love and endurance through the most stressful, disastrous situation one can imagine.Well-written, this is an engaging look into amnesia, and how it can reshape and change one's life. Ultimately a story of survival, Deborah is a strong-willed determined woman, one whose life is turned upside down by the unexpected. I highly enjoyed this story, and immediately turned to Google to learn more.