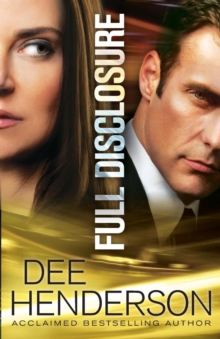 Full Disclosure
Paperback
Information
Format: Paperback
Pages: 480 pages
Publisher: Baker Publishing Group
Publication Date: 02/10/2012
Category: Thriller / suspense
ISBN: 9780764210891
Free Home Delivery
on all orders
Pick up orders
from local bookshops
Reviews
Showing 1 - 5 of 38 reviews.
Previous | Next
Review by jramoly
16/06/2015
I received an advanced copy of this book to review, and could NOT put it down! I have laughed and cried through all of Dee Henderson's books, but this one will always have a special place in my heart. Somehow, she managed not only to produce a wonderful book with great drama, crime, and heart-stopping action, but also to intertwine it with her O'Malley and Uncommon Hero books. The characters link together so perfectly, with such flair, that you feel like Ann Silver has always been a part of your reading experience. And when she and Paul Falcon become interested in each other outside of their respective homicide investigator/FBI agent jobs, the romance is better than a fairy tale, yet more realistic. Dee Henderson has always been skilled at leaving the reader guessing, and hanging onto her words at the end of chapters, but this story has far more unexpected twists and turns than ever before. If you love a suspenseful mystery, a beautiful romance, a CSI style novel, or simply a fun "safe" Christian read, this is the book for you!
Review by rjmoren
16/06/2015
This book was hard to put down. A very interesting read about an FBI agent and how he solves a 20 year old case that has eluded him for years. He is helped by Ann Silver, a very unique lady cop. The romance in the book between them had an unusual feel to it for me, but it worked. I loved the mystery of the case and how it was solved. Very enjoyable read!
Review by Organicshoes
16/06/2015
Dee Henderson is back! And what a return she has made! Her latest novel introduces us to two new characters, Ann Silver and Paul Falcon as well as some guest appearances of some of our favorite characters from Dee's books.Paul Falcon, a seasoned FBI Investigator has been tracking down a killer for years, the lady-killer as she has come to be known is elusive and her cases quickly turn cold until now, Ann Silver appears to be just another cop at first but the case she drops on Paul's desk can lead him to finally discover the identity of the lady-killer.Paul is ready to settle down, he wants a wife, a family. Ann is content being single and living in the moment, never planning what the future will bring. A case brings these two together, and Paul finds himself wanting to be around Ann more than just for the case, but she has some secrets and Paul wants her to be able to trust him with those secrets. Ann likes Paul, but is not sure if he can handle her secrets.Henderson has not lost her touch one bit! You will love the new characters and the story that she has woven between them. Throughout this book you will encounter many twists and turns you were never expecting! Just when you feel like you've figured out what happened a new twist is uncovered that keeps you glued to the pages!I loved this book, and my expectations for a Dee Henderson book were exceeded beyond what I could have imagined for her latest story! Make sure to grab a cup of hot chocolate and curl up on the couch for a long weekend because you will not want to put this book down.I received this book complimentary from Bethany House Publications in exchange for an honest review. All opinions are my own.
Review by foggidawn
16/06/2015
Paul Falcon is a high-ranking FBI investigator. When small-town cop Ann Silver stops by his office and drops a hot lead on his desk, related to a cold case he's been trying to solve for years, Falcon finds himself interested in more than just the evidence envelope she hands over. Ann is an enigma to Falcon -- one he'd like to try and solve. Will Ann let herself get close to him, or will the secrets in her past keep them always at arm's length?One of the most interesting things that Henderson did in this book was to make Ann the fictional author of all of Henderson's earlier works -- and to make those works based on Ann's friends' lives. On one hand, this is a clever device to allow characters from the O'Malley series and Henderson's other books to crop up as characters in this book, despite the fact that Ann was not a character in the earlier books. On the other hand, it does make Ann a bit of a Mary Sue. While she's not a perfect character (more on that later), she does have mad skillz as both a writer and a homicide investigator, as well as an intimate relationship with God and a talent for forming and maintaining close friendships. She comes across as a bit of a Superwoman.Unlike Henderson's earlier books, the suspense element was dialed down several notches in Full Disclosure. I kept waiting for that edge-of-your-seat moment when the hired killer is holding a gun against one of the characters' heads . . . it never came. There's plenty of intrigue and several shocking revelations, but they're all in the past, not part of the main action of the story.On a personal note, I also thought that the romance lacked heat. Ann is intensely private and afraid of commitment, and most of the story is told from Falcon's perspective. While he was fully involved in trying to make a romance happen, I found Ann's hesitant and standoffish attitude extremely off-putting. Other readers may not have this reaction, however.So, the amount of criticism I'm leveling may make it seem like I didn't enjoy this book. On the contrary, it held my attention nicely. While I might have liked to see a little more romance and a little more suspense, I did enjoy the way characters from previous novels were woven into the story, and I liked the way the two major cases that Falcon was working intersected. I would recommend this to Henderson's hardcore fans -- but for those who like inspirational fiction and romantic suspense, I would recommend giving <i>The Negotiator</i> a try and working your way up to this book.
Review by kaykwilts
16/06/2015
Not a fan. I have to be honest and say that I have never read any of her books. I have always heard that she is a good suspense author. I love authors like Terri Blackstock, Brandilyn Collins, Lynette Eason and Colleen Coble, These authors keep me up turning pages until I fall asleep. I had heard so much about this author that I was expecting the same. The suspense was lagging. I think I would have appreciated this book more if I had read her earlier works particularly the O'Malley novels. I get to that reason later.I found the romance part of the story was lacking and it was a big part of the book. FBI agent Paul Falcon was attracted to Ann Silver from the get go when she dropped into his office and dropped some vital information on a case he was working on. Ann Silver worked in law enforcement as a part time sheriff and also a MHI. She was close to 40 years old and very private. Unlike the typical woman she had no desire to marry or even have kids. She was happy to remain single the rest of her life. The author spent way too much time at the beginning of the book of Paul asking all her friends about her. By the time the romance started he knew just about everything about her except her secrets and she had some big ones. You will have to read the book to discover what the secrets are but the secrets are revealed in the middle of the book. Anyway the case involves a serial shooter but the shooter is female.As I said Ann is content to be by herself but she has a life away from the crime too. She writes a series of novels called the O'Malley series and the series are based on the lives of people she has met and some of Paul's friends and relatives are featured in these books. This is the reason why I thought reading the O'Malley series would add to my enjoyment of this book. Not sure if I am going to go back and read those novels if those novels move as slowing as this one.Just because I did not enjoy this book don't let it influence you. If you love Dee Henderson I am sure you will love this one. It just was not for me.