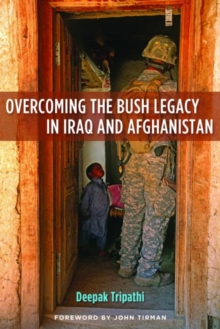 Overcoming the Bush Legacy in Iraq and Afghanistan
Hardback
Description
The military adventure that George W. Bush embarked on within months of his inauguration in 2001 was to eclipse everything else in his presidency.
His name will forever be synonymous with the "war on terror." What started as a military response to al Qaeda's attacks in New York and Washington on 9/11, with the goal of neutralizing al Qaeda and its Taliban hosts in Afghanistan, quickly fused with the neo-conservative agenda to dominate and reshape the Middle East.
Al Qaeda's terrorism was answered by the terror of American military power, which has destroyed or blighted the lives of millions in Afghanistan, Iraq, and Pakistan. Deepak Tripathi, a former BBC correspondent who has kept a keen eye on the region for more than three decades, identifies systematically the naive calculations, strategic and operational blunders, disregard for history and for other cultures, and even downright prejudice that have brought so much harm to so many.
The legacy of Bush's foreign policy will take years to overcome, Tripathi argues.
His war on terror provoked resentment and violent opposition, opened up sectarian divisions, and created Hobbesian conditions of war of all against all.
The long-term price tag for America has been estimated at a colossal $3 trillion, but as Tripathi seeks to demonstrate, the overall cost, in human and economic terms, will be incalculable.
Information
Format: Hardback
Pages: 200 pages
Publisher: Potomac Books Inc
Publication Date: 31/03/2010
Category: Middle Eastern history
ISBN: 9781597975032
Free Home Delivery
on all orders
Pick up orders
from local bookshops
Also by Deepak Tripathi