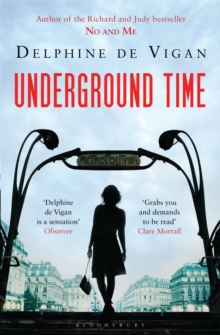 Underground Time
Paperback
Description
Everyday Mathilde takes the Metro, then the commuter train to the office of a large multi-national where she works in the marketing department.
Every day, the same routine, the same trains. But something happened a while ago - she dared to voice a different opinion from her moody boss, Jacques.
Bit by bit she finds herself frozen out of everything, with no work to do.
Thibault is a paramedic. Every day he drives to the addresses he receives from his controller.
The city spares him no grief: traffic jams, elusive parking spaces, delivery trucks blocking his route.
He is well aware that he may be the only human being many of the people he visits will see for the entire day and is well acquainted with the symptomatic illnesses, the major disasters, the hustle and bustle and, of course, the immense, pervading loneliness of the city. Before one day in May, Mathilde and Thibault had never met.
They were just two anonymous figures in a crowd, pushed and shoved and pressured continuously by the loveless, urban world.Underground Time is a novel of quiet violence - the violence of office-bullying, the violence of the brutality of the city - in which our two characters move towards an inevitable meeting. `Two solitary existences cross paths in this poignant chronicle, a new testimony to de Vigan's superb eloquence' Lire
Information
Format: Paperback
Pages: 272 pages
Publisher: Bloomsbury Publishing PLC
Publication Date: 01/02/2012
ISBN: 9781408821749
Free Home Delivery
on all orders
Pick up orders
from local bookshops
Reviews
Showing 1 - 2 of 2 reviews.
Review by LynnB
16/06/2015
This was a light read, in spite of treating issues of lonliness and isolation. The writer gives us two parallel stories: Mathilde, who is being bullied and harrassed at her job, and Thibault, who has just broken up with a woman he loves because she doesn't love him. As we follow them through a single day, we see they have similar thoughts and perspectives. We can't help but think they would be perfect for each other! SPOILER ALERT!!Mathilde and Thibault don't meet, and that is certainly the more realistic scenario in modern life in a crowded city. But, it was not a satisfactory ending. Although probably a better one, as a meeting would have relegated this book to "chick lit" status. I think the author didn't find the right balance between her writing style and her plot. To be fair, something may have been lost in translation. So, overall, this book was okay, but not as good (or bad) as it could have been.
Review by jayne_charles
10/11/2015
Two separate stories run through this novel - one a highly original and gripping account of a hard-working single mother who finds herself frozen out at work by a vengeful boss , the other a rather nebulous tale about a mobile doctor who has just split up with his girlfriend and is feeling sad about it. Of the two, I much preferred the first, which was quite staggering in its portrayal of office politics at their very worst. The second left me entirely cold. The author includes a lot of musing about working relationships and loneliness, and what they say about the world at large - most of which sailed over my head I'm afraid - and I suppose there was an expectation that the two stories would intersect by the end of the novel, but really all I remember having finished was the outrage I felt on Mathilde's behalf at the atrocious behaviour of her boss, and on that level the novel was entirely successful.