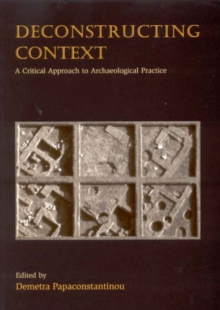 Deconstructing Context : A Critical Approach to Archaeological Practice
Paperback / softback
Description
The importance of context has been extensively discussed in recent years.
This volume attempts to address the fragmentation and misconceptions that have developed around context in archaeology, highlighting the common threads that link together varying contextual perspectives.
The first part of the book examines the concept of archaeological context by offering a critical assessment of its 'historical' development.
The second section presents a number of case studies, and the third section discusses the management of archaeological material.
Finally, part four takes the discussion on context further, setting the content of the book in a wider perspective.
Information
Format: Paperback / softback
Pages: 224 pages, b/w figs and pls
Publisher: Oxbow Books
Publication Date: 28/01/2006
Category: Archaeological theory
ISBN: 9781842172049