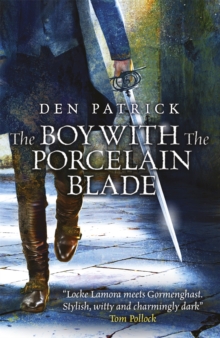 The Boy with the Porcelain Blade
Paperback
Description
An ornate yet dark fantasy, with echoes of Scott Lynch, Robin Hobb and Jon Courtenay Grimwood.
An original and beautifully imagined world, populated by unforgettable characters.
A debut novel which garnered rave reviews on publication from fellow authors, bloggers and the likes of SFX magazine.Lucien de Fontein has grown up different.
One of the mysterious and misshapen Orfano who appear around the Kingdom of Landfall, he is a talented fighter yet constantly lonely, tormented by his deformity, and well aware that he is a mere pawn in a political game.
Ruled by an insane King and the venomous Majordomo, it is a world where corruption and decay are deeply rooted - but to a degree Lucien never dreams possible when he first discovers the plight of the 'insane' women kept in the haunting Sanatoria.
Told in a continuous narrative interspersed with flashbacks we see Lucien grow up under the care of his tutors.
We watch him forced through rigorous Testings, and fall in love, set against his yearning to discover where he comes from, and how his fate is tied to that of every one of the deformed Orfano in the Kingdom, and of the eerie Sanatoria itself.
Information
Format: Paperback
Pages: 336 pages
Publisher: Orion Publishing Co
Publication Date: 08/01/2015
Category: Fantasy
ISBN: 9780575134027
Free Home Delivery
on all orders
Pick up orders
from local bookshops
Reviews
Showing 1 - 1 of 1 reviews.
Review by JohnFair
27/08/2015
This is a dark book, Lucien and his fellow orfano are neither admired nor respected but they are feared by the nobles of Demesne and the peasants of Landfall alike. All that saves them from more than the fear of the nobles is the interest of the king as evidenced by his majordomo. As Lucien attempts to survive the duelling halls of the Fontein clan he finds he has to understand the twisted history of the Demesne if he is to live.This was a bit of a difficult book to get involved with (it was a Reading Group book) as no characteer is particularly pleasent, even Lucien even if he has a certain niaive charm. Although it is marketed as fantasy, there is little that is traditionally fantasy in the story itself or in the background as described in some of the alternating chapters. The various chapters are set in the 'present' of Lucien's latest testing, the one that gets him exiled from Demesne and precipitates the revolution, whilst the intervening chapters take us through Lucien's timeline from his eighth year - sometimes more confusing than it could be.