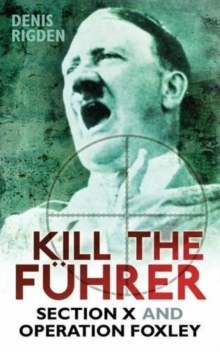 Kill the Fuhrer : Section X and Operation Foxley
Paperback / softback
Description
During the Second World War, Britain's top secret Special Operations Executive plotted to assassinate Hitler.
A small department of SOE known as Section X had the tantalisingly complext task of investigating how, when and where their plan could be executed.
The section also plotted the killing of Goebbels, Himmler and other selected members of Hitler's inner circle.
Only Section X and a handful of other SOE staff had any knowledge of these projects, codenamed Operatino Foxley and Operation Little Foxleys.
As history has shown, these schemes turned out to be pipe dreams.
Even so, Section X, renamed the German Directorate in 1944, made a huge contribution to the Allied war effort through their organised sabotage and clandestine distribution of black propaganda.
Denis Rigden describes Section X's efforts to discover as much as possible about the intended assassination targets, and questions whether a successful Operation Foxley would have helped or hindered the Allied cause.
Based on top secret documents and private sources and illustrated with archive photographs, 'Kill the Fuhrer' is an intriguing insight into the shadowy world of Britain's wartime secret services.
Information
Format: Paperback / softback
Pages: 240 pages
Publisher: The History Press Ltd
Publication Date: 15/11/2009
Category: European history
ISBN: 9780752454733
Other Formats
Paperback / softback from £7.59