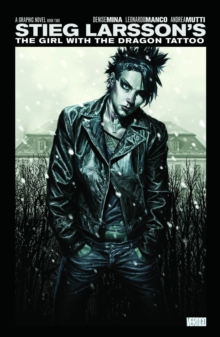 The Girl with the Dragon Tattoo Book 2 HC
Hardback
Description
Harriet Vanger, a scion of one of Sweden's wealthiest families, disappearedover forty years ago.
Years later, her aged uncle continues to seek the truth. He hires Mikael Blomkvist, a crusading journalist recently trapped by a libelconviction, to investigate.
Mikael hits a dead end in the case, so to help, hebrings in Lisbeth Salander, a fearless pierced and tattooed punk prodigy. Together they tap into a vein of unfathomable iniquity and astonishingcorruption.
Written by Denise Mina (John Constantine, Hellblazer) with artby Leonardo Manco and Andrea Mutti, Book 2 of Stieg Larsson's internationalpublishing phenomenon The Girl with the Dragon Tattoo picks up the storyfollowing Lisbeth's final confrontation with her "guardian," NilsBjurman.
Information
Format: Hardback
Pages: 144 pages
Publisher: DC Comics
Publication Date: 07/05/2013
Category: Crime & mystery
ISBN: 9781401235581
Free Home Delivery
on all orders
Pick up orders
from local bookshops
Reviews
Showing 1 - 3 of 3 reviews.
Review by Josh.Scheibe
16/06/2015
I received this book through the Goodreads First Reads program.<br/><br/>The second volume of Mina, Manco, and Mutti's adaptation of the late Stieg Larsson's <i>The Girl with the Dragon Tattoo</i> is, for the most part, well done.<br/><br/>My biggest gripe with the book is the time jumps employed throughout. While I am (unfortunately) not familiar with the original books (though they are on my shelf and on my to-read list), I get the feeling that these jumps were directly inspired by how the books were written. As a device in a novel, these work better than in a graphic novel, especially as there is no delineation between the different times in the latter; in a novel, paragraphs are a quick and easy guide. I found myself turning back pages numerous times in order to determine whether they had stuck together or whether I had missed something important. These jumps were rather jarring, I must admit, and detracted from my overall enjoyment.<br/><br/>The art style works very well with the story; the jagged lines and alternation of heavy shadows and bright colors make the art really pop. While the harshness of some of the lines and angles may be a tad harsh to look at at first, they really contribute a lot to the feel of the book as a whole. And let me just say that the cover art is some of the most gorgeous art I've seen in a while. Props to Lee Bermejo on another beautiful piece.<br/><br/>Overall, I enjoyed the book. The art style meshes well with the story (and seems to improve as it goes on), and I hope to read future installments in the series.
Review by diovival
16/06/2015
These graphic novel adaptations just don't have the same punching power as the novels. Meh.
Review by -Eva-
16/06/2015
A graphic novel version of the first of Stieg Larsson's books about Mikael Blomkvist and Lisbeth Salander, adapted by Scottish writer Denise Mina. It's a great adaptation, but (inevitably) quite a few details get lost and I'm not sure if I fill in the blanks with knowledge I have from the books or if the comics do stand on their own. The art is very good and the characters' looks "fit" how they are described in the original - only a couple of them look like the actors from the movie. I do have a problem with them splitting this into two volumes (of about 150 pages each) - it's clearly only in order to charge for it twice, since it would easily fit into one volume.