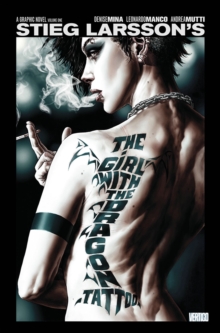 The Girl with the Dragon Tattoo Volume 1 HC (MR)
Hardback
Description
DC Entertainment is pleased to present the official graphic novel adaptationof Stieg Larsson's "Millennium Trilogy," brought to life by best-selling mysterynovelist Denise Mina and illustrated by Leonardo Manco and Andrea Mutti, with aspectacular cover by Lee Bermejo. Harriet Vanger, a scion of one of Sweden's wealthiest families, disappearedover forty years ago.
All these years later, her aged uncle continues to seekthe truth.
He hires Mikael Blomkvist, a crusading journalist recently trapped bya libel conviction, to investigate.
He is aided by the pierced and tattooed punkprodigy Lisbeth Salander.
Together they tap into a vein of unfathomable iniquityand corruption in this extraordinary adaptation of the international publishingphenomenon.
Information
Format: Hardback
Pages: 152 pages
Publisher: DC Comics
Publication Date: 13/11/2012
Category: Comics and Graphic Novels
ISBN: 9781401235574
Free Home Delivery
on all orders
Pick up orders
from local bookshops
Reviews
Showing 1 - 5 of 11 reviews.
Previous | Next
Review by RoeschLeisure
16/06/2015
Believe it or not, I never read Larsson's books or saw either film version. As a result, I cannot comment on how this graphic novel compares to its predecessors in print or on the silver screen. This version was quite enjoyable. It is graphic where necessary and does a good job bringing the reader into the story. There is an underlying sense of foreboding that makes me anticipate the next installment.
Review by DanieXJ
16/06/2015
I watched the Swedish movie and seen the actors who played the roles in the American version, but this graphic novel is much closer to how I pictured Mikael and the other characters when I originally read the books.It's not a new story, it's been done in what seems like every different way, but I thought that the writer and artists really captured the feel of the original book. Gritty and cold and angry and the waves of hate that bounced around Henrick's family. I also liked the tattoo in it's full glory on Lisabeth's back.Unfortunately some of the dialogue was a bit stilted (maybe it was that way in the novel too, who knows), and even though I really know the story, at points it did seem to jump forward here and there. And it's probably best that people have read the novel or seen one of the movies first. It's not exactly the most straightforward of stories.
Reviewed by: MarissaBook provided by: NetGalleyReview originally posted at Romancing the BookI chose to review this version of The Girl with the Dragon Tattoo because I loved the Stieg Larsen novels and because I love a good story told in graphic art. This is a win-win all the way around. The story was superbly told (the story, not the movie – there are some subtle differences). However, because I am making comparisons, there might be a spoiler or two in here if you have not read the book or seen either movie. (I've seen only the Swedish film so that's where any contrasts I offer will come from.)First and foremost in a graphic novel is the artwork. That is what draws us to the novel, gets us to open the cover, and begin reading the first page. The artwork in The Girl with the Dragon Tattoo is exceptional. At times dark and brooding, the art takes us into Lisbeth's world of violence and underground computer hackers. And this was the real crux of the story – the abuse she suffered as a child which then reached out to her as an adult. Our first view of Lisbeth is with her eyes downward. In fact, her eyes are kept downward for several frames – an introduction to her shyness and lack of people skills.At this point in the novel, we have only touched on her childhood. However, the rape of Lisbeth by her guardian is brutal. I'm not sure which was worse – watching the rape between live actors in a movie, or seeing it in graphic art splayed out on the page. My eyes kept getting drawn back, looking for more detail. I think it's like that wicked car crash on the highway where you don't want to look but you can't help it, and you tell yourself you're just making sure everyone is okay – even if you know otherwise.In comparison, the pages brightened to snow-filled days and candle-lit dinners for Mikael's scenes. Mikael, attempting to solve a murder from 1966, delves into a family history that is twisted and bent unlike no other family tree. One thing the graphic novel does that the movie skimmed over is offer a more detailed explanation of how Mikael Blomqvist ended up in prison and giving up the reins on the financial magazine he co-published.One of the problems, though, is that this is only a segment of the novel. DC Comics/Vertigo is publishing each book in the Millenium Trilogy in two parts, and therein lays the problem. I just don't see how a 600+ page book can be successfully condensed into half that. I am, however, anxious to find out and will be picking up Part II as soon as it comes out. I would recommend this book for those that like to see/read alternative interpretations of their favorite books, but I would not suggest that the graphic novel be read in place of the original book by Stieg Larsen.
Review by JasonBrownPDX
16/06/2015
I want to say I was "disappointed" but I wasn't really, I do not know that I had any real reaction to this. The thing is that there was nothing here that really stood out as either above par or under par, it just existed.With an international bestseller, the posthumous glory of the author has to top out someplace. This graphic novel was not that pinnacle, in fact, it might be a sign of the end. After world wide book translation, successful foreign films, unneeded US films, a lackluster graphic novel seems like the next step before lunchboxes and old-navy baby t-shirts.It isn't that the story became bad when this was created, it is just that there was nothing new. It doesn't translate well to the format. The original plot-line of the novel is DRY DRY DRY. the only thing that drives the plot is Lisbeth's tale. to be honest, most people could give a rats ass about the Millennium story-line in the beginning.The actual written conversion to Graphic Novel was well done, but bland. This is not the fault of the adapter, it is a bland story until you reach a certain point. Volume 1 effectively details the first half of the original plot… which mainly sucked. This graphic novel starts to get interesting about three quarters in, which is to be expected based on said original novel plot. Unfortunately, I am not sure how this will help keep readers engaged. Many people gave up on the book before getting deeply into it.Graphic novels are known for sometimes carrying slow plot-lines, it can be effective for bolstering tough stories by pairing them with stunning artwork to help ensure interactive readership. This failed in that regard. The beautiful cover work created by Lee Bermejo is not indicative of the artwork inside by Manco and Mutti. It is not that the art is bad, it just is not awesome. All pages not focused on Lisbeth were meh at best, or lacking pop and density at worst. The pages looked historic and dated. there was a real missed opportunity here to stand out.Parents should keep in mind that this is NOT a children's story.. The pages dealing with rape and mutilation should be enough to snatch this from your kids grasp should you see them reading it. If that is not enough for you, the undercurrent themes of parricide might do it.--xpost RawBlurb.com
Review by alyslinn
16/06/2015
I love the art, but the condensed version of the story is not very well done. It feels too choppy, and the characterizations are flat. Blomkvist comes across as a womanizer and not much else, and Lisbeth is little better. However, the art is compelling enough that I gave this 3 stars and will still likely buy volume 2.