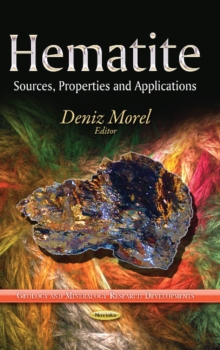 Hematite : Sources, Properties & Applications
Paperback / softback
Description
Hematite is the mineral form of iron(III) oxide (Fe2O3), one of several iron oxides.
In this book, the authors present current research in the study of the sources, properties and applications of hematite.
Topics discussed include nanostructured hematite for solar driven hydrogen generation; reactions at the hematite surface with Fe(II) and environmental contaminants; the catalytic properties of sulphated hematite in toluene disproportionation; hematite nanotubes and nanorings; and the synthesis, characterization and photocatalytic property of nanostructured hematite.
Information
Format: Paperback / softback
Pages: 96 pages
Publisher: Nova Science Publishers Inc
Publication Date: 01/09/2013
Category: Mineralogy & gems
ISBN: 9781628085006