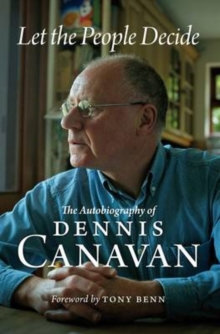 Let the People Decide : The Autobiography of Dennis Canavan
Paperback / softback
Description
Born in Cowdenbeath in 1942, Dennis Canavan was educated at St.
Bride's and St. Columba's Schools in Cowdenbeath, and at the University of Edinburgh.
He worked as a schoolteacher from 1968 until 1974 and was Assistant Head of Holyrood High School, Edinburgh, at the time of his first election to Parliament.
Throughout his 33-year political career as a councillor, MP and MSP Dennis Canavan has been recognised as one of the most colourful politicians to grace the halls of Holyrood.
In 1975, he tried introducing a bill to abolish corporal punishment in schools which went on to play a major part in the European Commission of Human Rights which put an end to the practice, before becoming Chair of the Scottish Parliamentary Labour Group from 1980-1981.
A keen supporter of devolution, he also gained recognition for voting against the Blair Government's proposals to cut benefits for single-parent children, abolish student grants and introduce tuition fees, as well as successfully amending parliament's landmark right-to-roam legislation to extend access to the Queen's estates, and introducing a bill to make St Andrew's Day a national holiday. When he announced his retirement before the 2007 Scottish Parliament elections, he received an ovation in the Chamber of the Scottish Parliament.
An enthusiastic sportsman and a popular constituency MSP, the father-of-five has also endured immense personal heartache, losing his first son, Paul, to skin cancer in 1989, and his 35-year-old son Dennis to a brain tumour in 2006.
His eldest son, Mark, died in Australia at the age of 41 in March 2007, after a three-year battle with motor neurone disease.
Courting praise and controversy in equal measure throughout his career, Canavan's contribution to public life was honoured when Falkirk Council decided to set up a new educational scholarship in his name.
This autobiography chronicles an extraordinary and fascinating life of devoted service to Scottish and UK politics.
Information
Format: Paperback / softback
Pages: 224 pages, Illustrations
Publisher: Birlinn General
Publication Date: 30/07/2010
ISBN: 9781841589138